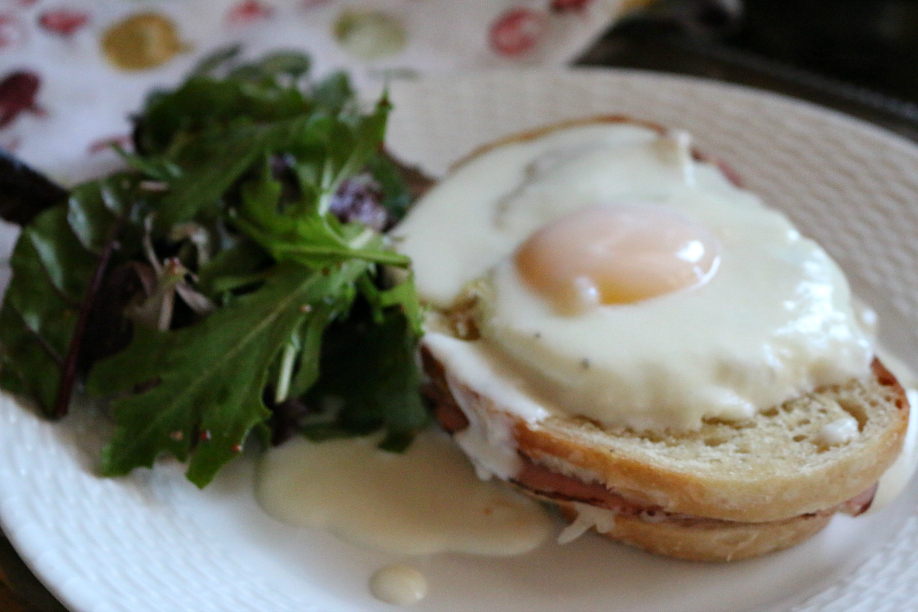 Easy Croque Madame Sandwich with Bechamel Sauce
2017-11-04 10:36:08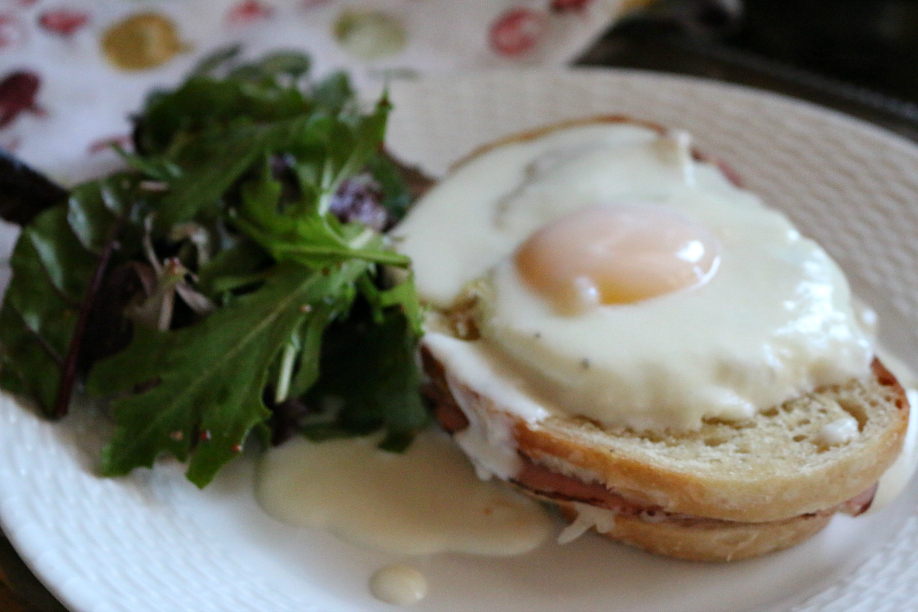 Serves 4
One of our favorite French restaurants closed recently. It makes me sad, because I loved going there with my family. I crave these delicious French Sandwiches know as Croque Madame in France. They are great for a weekend brunch, because they are breakfast and or lunch. I like serving it with a little mixed green salad like they did at the restaurant. The key to this recipe is the béchamel sauce. The sauce is rich and delicious. Instead for the standard recipe for béchamel sauce which includes just Parmesan cheese I add a little Gruyere cheese into the sauce. It gives the sauce an extra level of flavor. This is my daughter's favorite breakfast sandwich. It is fairly easy to make. The only thing that takes a little extra time is the béchamel sauce. It is well worth the effort though! You will love this tasty brunch, breakfast or lunch recipe. Let me know what you think of it. Post a comment below or send me a note on Facebook. Until next time, Bon Appetit, Cecelia
Bechamel Sauce
4 tablespoons butter
4 tablespoons flour
2 cups whole milk
Salt to taste
Fresh cracked pepper to taste
½ cup parmesan cheese
½ cup grated Gruyere cheese
For Sandwiches
4 tablespoons butter
8 slices sourdough bread
8 slices ham (medium sliced)
8 slices Gruyere cheese
4 eggs
Instructions
To make sauce.
In a medium size sauce pan add butter and melt over medium heat.
Add flour and whisk until blended.
Cook for 3 minutes or until flour is cooked.
Slowly add milk.
Continue stirring until flour mixture and milk are blended.
Cook for 10 minutes until sauce thickens.
Then add parmesan cheese and grated Gruyere cheese.
Cover sauce and set aside.
Arrange bread for sandwiches.
Lay four slices and add ham and sliced Gruyere cheese.
Add about 2 tablespoon of sauce onto each sandwich.
Butter the slices that will be face down in pan.
Grill sandwiches over medium high heat.
Grill each side about 3 minutes or until golden brown.
Warm sauce of medium low heat.
For eggs
In a large sauce pan add about 1 tablespoon butter.
Add eggs and cover with lid.
Cook until eggs is cooked to medium. (Sunny side up with a runny yoke.)
Serve each sandwich on a plate cover with sauce and cooked egg.
Continue for each sandwich.
Season with salt and fresh cracked pepper.
Serve immediately.
Cecelia's Good Stuff https://ceceliasgoodstuff.com/