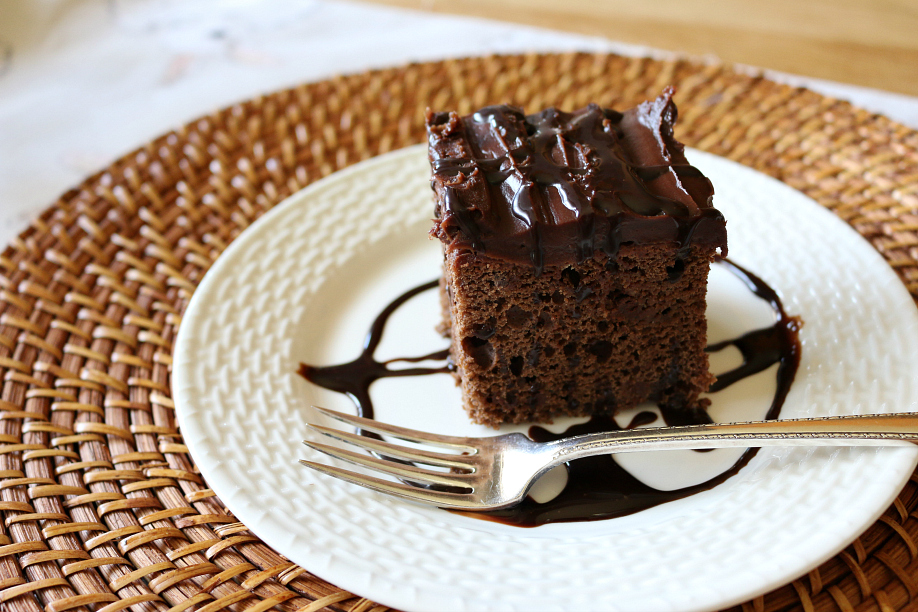 Costa Rican Chocolate Cake
2018-04-12 11:45:24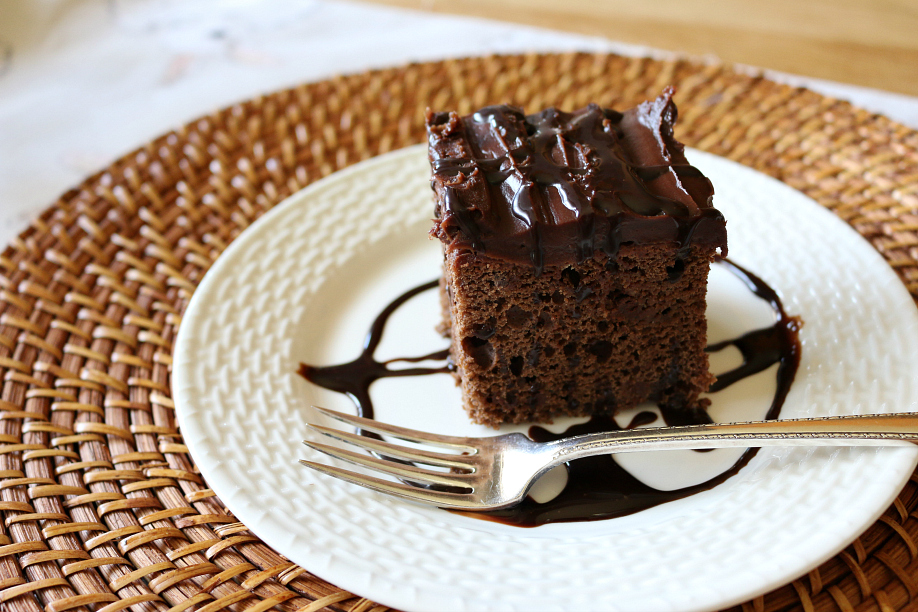 Serves 16
Ingredients
4 eggs
1 cup butter (room temperature)
2 teaspoons vanilla extract
1 1/2 cups sugar
1 cup sour cream
1 cup brewed coffee
2 1/2 cups cake flour
1 cup baking cocoa powder
2 teaspoons baking powder
1/2 teaspoon sea salt
1 cup mini dark chocolate chips
Garnish
Hot Fudge - prepared
Easy Chocolate Frosting
1/3 cup melted butter
2 2/3 cups confectioners sugar
2/3 cup cocoa powder
1/3 cup half and half
1 teaspoon vanilla extract
Instructions
Preheat oven to 350 degree
Grease (9 x13) cake pan and flour bottom and sides
In a large bowl cream eggs, butter, vanilla extract, and sugar until blended about 30 seconds.
Then add in the sour cream and coffee and mix again for 30 seconds.
In a separate bowl add all the dry ingredients: flour, cocoa powder, baking powder and salt.
Gradually add the dry ingredients to the wet ingredients while mixing.
Mix on medium speed for 1 minute.
Then gently add in the mini chocolate chips.
Mix until fully blended.
Pour batter into prepared pan.
Bake for approximately 50 minutes.
Test center of cake with tooth pick, if it come out dry then the cake is fully cooked.
Frosting
In a medium size bowl add melted butter.
Add sugar, cocoa powder, half and half and vanilla.
Mix on medium speed for about 1 - 2 minutes until creamy.
Refrigerate until ready to use.
Frost Cake
Allow cake to full cool before frosting.
Serve immediately.
Notes
I garnished it with prepared hot fudge. This is seriously a chocolate lover's delight!
Cecelia's Good Stuff https://ceceliasgoodstuff.com/