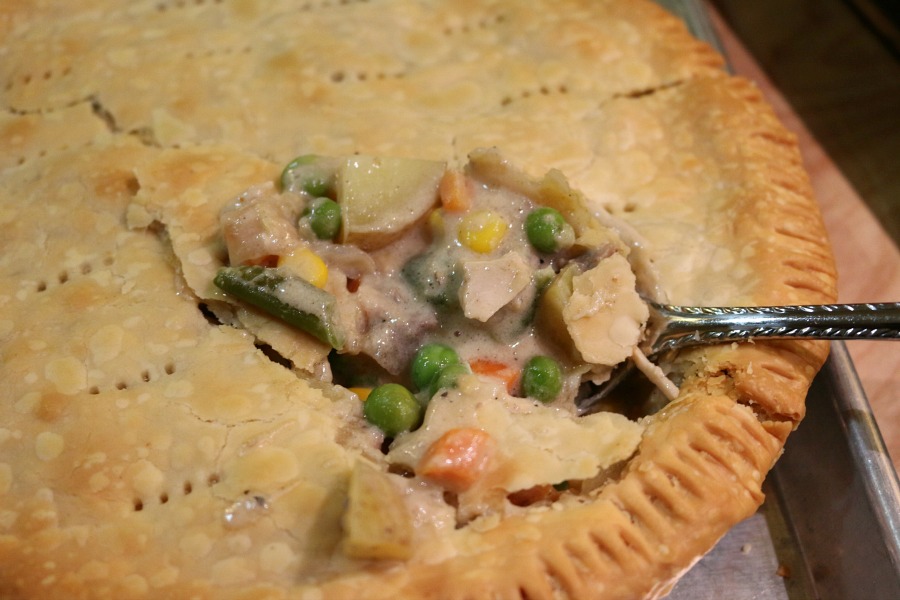 Chunky Chicken Pot Pie
2016-01-13 09:12:23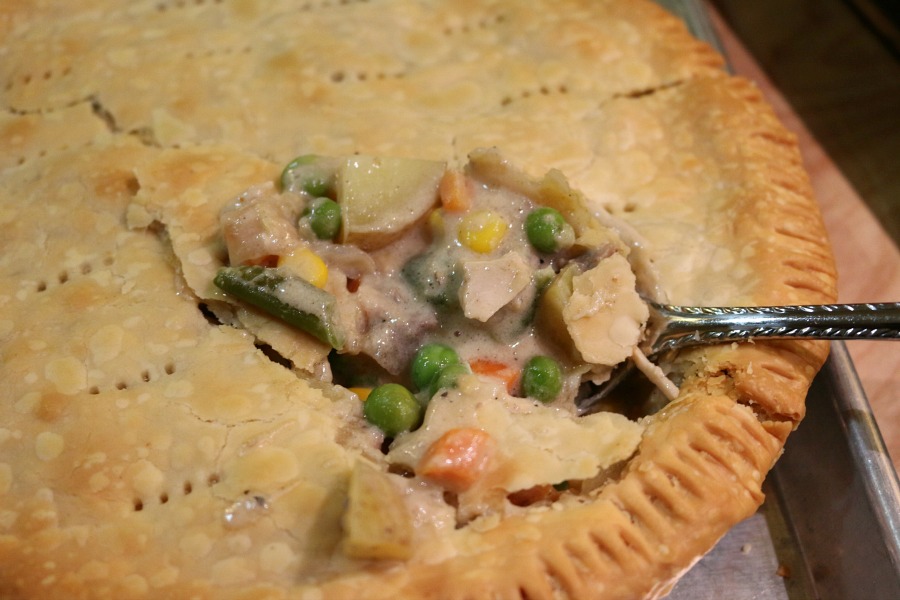 Serves 8
I am just back from a nice weekend in our beautiful state capital of Santa Fe. I spent the entire weekend with great friends that I hadn't seen in nearly ten years. It is wonderful when you seem to pick up right where you left off, that is a true sign of friendship. What a wonderful feeling, knowing that all the miles and years apart haven't interfered with that connection. I had a wonderful weekend of visiting in between all the shopping, eating and drinking some nice wine. So today is back to reality, trying to make dinner for my family. It has been cold and snowy here in New Mexico and I am loving it. I definitely love the snow more than the cold. All this cold weather makes me crave comfort foods and I certainly don't think I am alone on this one. One of my favorite comfort foods is chicken pot pie. Who doesn't love the buttery crust filled with piping hot creamy chicken loaded with carrots, big chunks of potatoes and lots of yummy vegetables. It warms me all over, just writing about it. To help make this recipe easy I recommend using a prepared pie crust and a roasted chicken. It is worth the time it saves and makes this recipe simple to put together. And oh my, so delicious . . . serve this pot pie with a side salad and you have an exceptional dinner. I hope you enjoy it as much as my family did. I would love to hear from you please post your comments below or send me a note on Facebook. Bon Appétit, Cecelia P.S. This would be great with any leftover Thanksgiving turkey!
Ingredients
Chunky Chicken Pot Pie (Turkey Leftover Idea)
1 cups chicken stock
1 celery stalks with greens sliced finely
1 cup frozen mixed vegetables (Carrots, peas, corn and green beans)
1 russet potatoes; scrubbed and sliced
1 (10 ounce) cans cream of mushroom soup
¼ tablespoon garlic powder
¼ teaspoon thyme
½ teaspoon parsley
2 tablespoons butter
1 cup chopped roasted chicken breast
Salt and Pepper to taste
1 tablespoon flour
2 Prepared pie crusts (one in a tin)
Instructions
Directions: In a large stock pot melt butter and sauté the onions and celery for about 2 minutes add the flour and mix well. Slowly add chicken stock continuing to mix, then add the mushroom soup, potatoes and herbs bring to a slow boil over medium heat, continue to cook until potatoes are tender about 15 - 20 minutes. Add chopped chicken and frozen vegetables, mix well and then season with salt and pepper and remove from heat. Bake the prepared pie crust bake the bottom for 10 minutes at 350 degrees, remove from oven and pour chicken mixture and cover with the second pie crust. Seal edges with a fork and trim off any excess crust. Bake in a preheated oven 350 degree oven for 35 - 45 minutes or until pastry is fully cooked and light brown. Be careful not to overcook. Allow potpie to cool 15 minutes before serving. Serve with a side salad for a perfect meal.
Notes
TIP: Gently poke the pie crust using a fork, this will help the extra steam escape and help to keep the seal tight along the edge of the pie crust.
Cecelia's Good Stuff https://ceceliasgoodstuff.com/