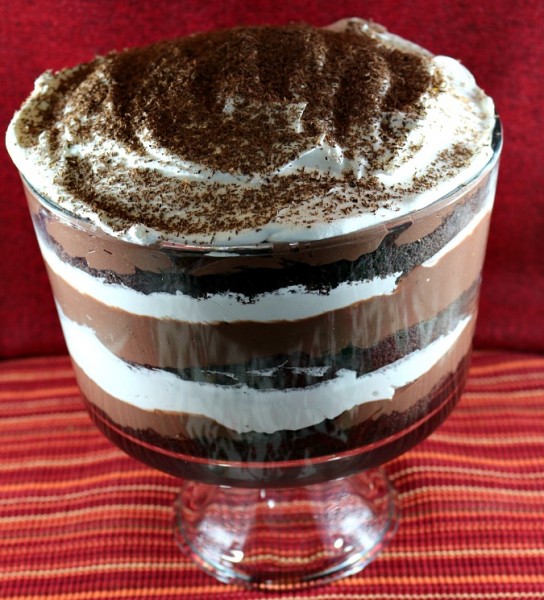 Chocolate Fudge Trifle
2015-01-17 11:22:38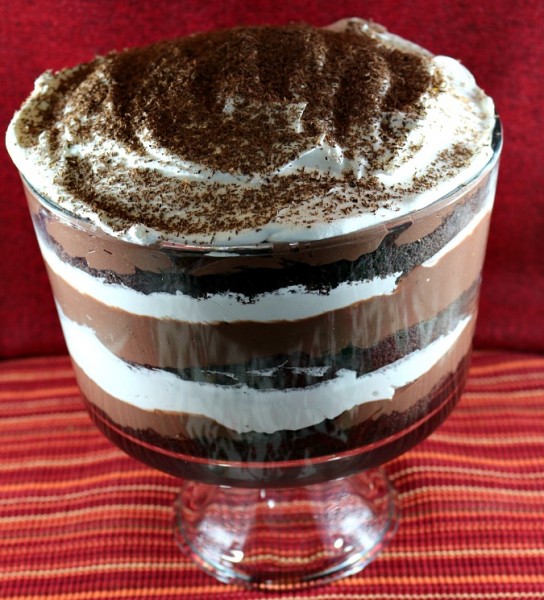 I love making easy desserts. This Chocolate Fudge Trifle is so easy and what I really love about it is that it can be made a day ahead. I just served it last week at a dinner party I hosted and it was a huge hit. This desert is best made ahead because it allows the Oreo cookies to absorb the moisture of the pudding so the crumbs become cake-like. The dark chocolate add a deep rich flavor to this recipe. It is a real winner! I would love to hear from you. Please comment below or send me a message via Facebook or Google +. Bon Appétit,
Ingredients
2 (6 ounce) Jell-o Chocolate Fudge Instant Pudding Mix
5 cups whole milk
1 package Oreo cookies (all 3 rows)
1 (28 ounce) container of Cool Whip
1 Hershey's dark chocolate bar (grated finely)
Instructions
Mix chocolate pudding as directed on box. Chill pudding in Refrigerator until ready to layer. In food processor add entire package of cookies, pulse until all cookies form a fine crumb. No visible white center should be present. In trifle dish layer the cookie mix, chocolate pudding, cool whip and grated dark chocolate until you have at least three layers of each. This desert looks best in a trifle dish. Save some dark chocolate shavings to sprinkle as garnish on the final top layer. You can cut this in half if you are making it for a smaller group – it can be put into individual cups. This is best made one day ahead and should be stored in refrigerator for up to 24 hours before serving. Enjoy!
Notes
TIP: Use ½ cup less milk than indicated per package to keep the pudding firm.
Cecelia's Good Stuff https://ceceliasgoodstuff.com/