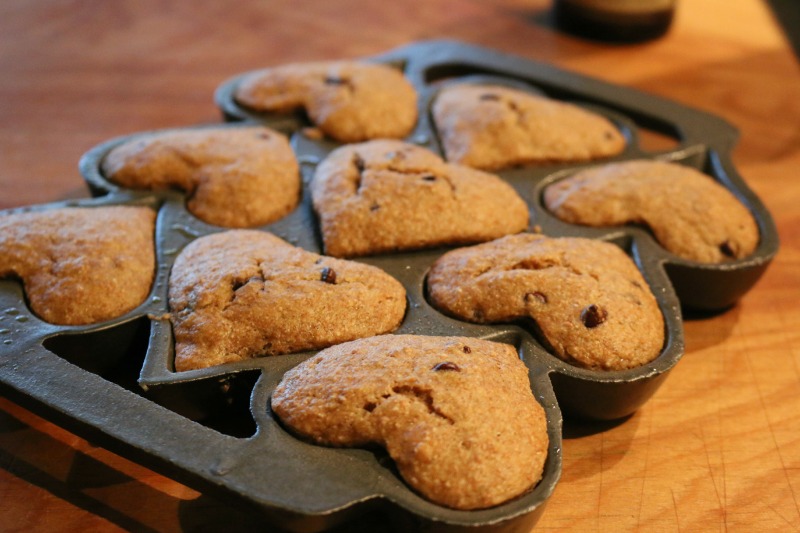 Banana Muffins with Mini Dark Chocolate Chips
2015-07-08 19:48:37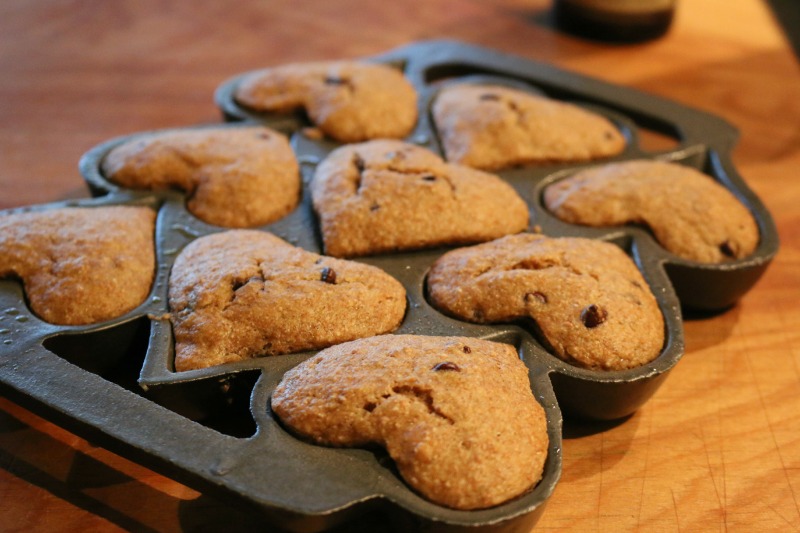 Serves 24
I don't know about your house but here at Casa Linda we seem to have an abundance of over ripe bananas. I don't mind them because I usually put them to use and it inspires me to bake something delicious. I found this darling cast iron muffin pan in my pantry, I had forgotten I even owned it. I woke up this morning feeling like sharing the love and wanted to bake something delicious for my family. It was nice a cool this morning because of all the rain we have had over the last few days. Yah, for lots of rain. My garden is loving it! Well back to baking muffins, I thought the muffin pan would be appropriate for this morning's muffins since it was in the shape of little hearts. And since I was wanted to go with the theme of sharing the love, it was perfect! FYI - this cute cast iron baking pan did not hold all the batter so I had to use another muffin tin for the remaining batter. I love hearing from you, so comment below or send me a message via Facebook. I hope you enjoy this recipe and happy baking. Bon Appétit, Cecelia
Ingredients
1 cup unbleached flour
1 cup whole wheat flour
2 teaspoon baking powder
1 cup whole milk
5 ripe bananas, mashed
½ cup sugar
1 cup mini dark chocolate chips
1 teaspoon cinnamon
1 teaspoon vanilla bean paste or 1 ½ vanilla extract
3 eggs, beaten
1/2 cup coconut oil
Instructions
Preheat oven to 350 degrees F.
In large mixing bowl add bananas and mash until fairly smooth.
Add sugar, eggs, vanilla and beat on medium for about 30 seconds.
Add coconut oil and milk and mix again for 30 more seconds until blended.
Gradually add in the flour, cinnamon, and baking powder keep mixing until combined.
Continue to mix on medium for one - two minutes or until all ingredients are fully blended.
Gently fold in the dark chocolate chips.
Prepare muffin pan with cooking spray and pour batter into pan and bake for 18 - 22 minutes.
Dairy Free Option: To make this recipe dairy free use water instead of milk.
Gluten Free Option: To make gluten free substitute (gluten free flour blend).
Notes
Tip: Test with tooth pick, poke in center if it come out clean it is fully cooked. When using dark baking dishes you may have to reduce cooking time by one or two minutes (18 – 20 minutes).
Cecelia's Good Stuff https://ceceliasgoodstuff.com/