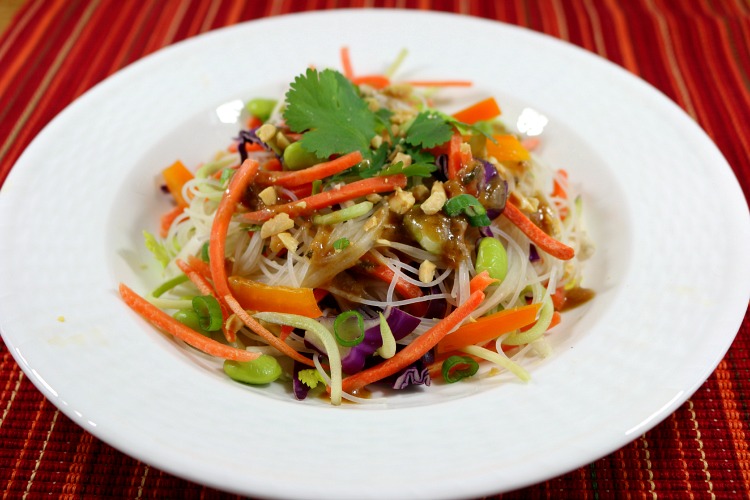 Asian Rice Noodle Salad with Ginger Dressing
2015-01-27 17:34:47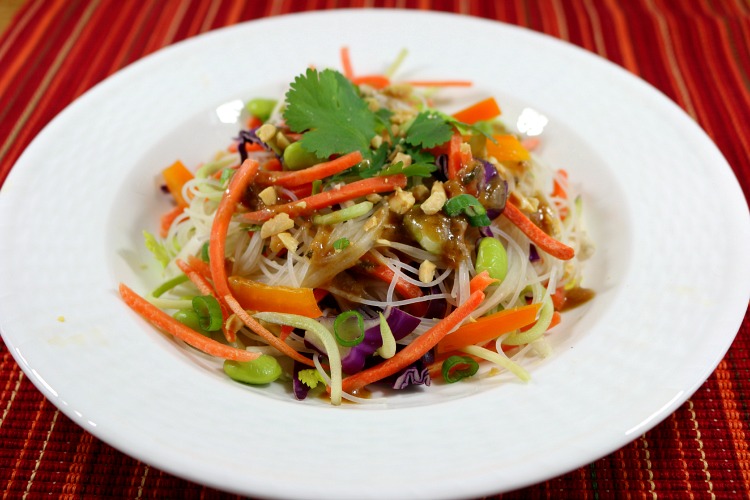 Serves 6
Asian Rice Noodle Salad with Ginger Dressing is a fresh and light option for lunch or dinner. I am always trying to change things up so my family doesn't get tired of eating salads. I added rice noodles, celery, crunchy orange bell pepper and lots of fresh grated ginger to this recipe. It was heavenly! Bon Appetit, Cecelia
Ingredients
1 cup purple cabbage; sliced thinly
1 cup cabbage; sliced thinly
1 cup broccoli slaw
1 cup celery, sliced
1 cup orange bell pepper; sliced thinly
1 cup julienned carrots (found in most grocery stores)
1 bunch cilantro; leaves only (about 1 cup)
2 scallion; greens thinly sliced
¼ cup chopped roasted peanuts for garnish
1 small package rice noodles, (prepare according to package directions)
Ginger Dressing
¼ cup rice vinegar
¼ cup olive oil
½ teaspoon garlic powder
3 tablespoons dark sesame seed oil
3 tablespoons Hoisin sauce
1 tablespoon Dijon mustard
2 teaspoons soy sauce
2 tablespoons fresh squeezed lime juice
¼ cup peanut butter
3 tablespoon freshly grated ginger
Instructions
Dressing: In food processor add all dressing ingredients. Pulse until all ingredients are well blended.
Salad Directions: In large mixing bowl add all chopped salad ingredients, add in the rice noodles and mix well. Toss with ginger dressing garnish with scallions and peanuts. Serve immediately.
Notes
This is gluten free, to make it fit a paleo diet disregard the edamame beans and substitute salt for the soy sauce.
Cecelia's Good Stuff https://ceceliasgoodstuff.com/