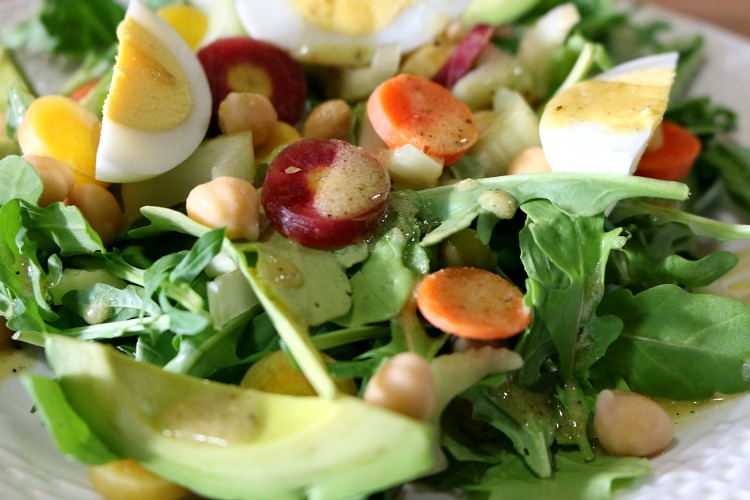 Arugula Salad with Dijion Vinaigrette
2015-04-26 09:12:35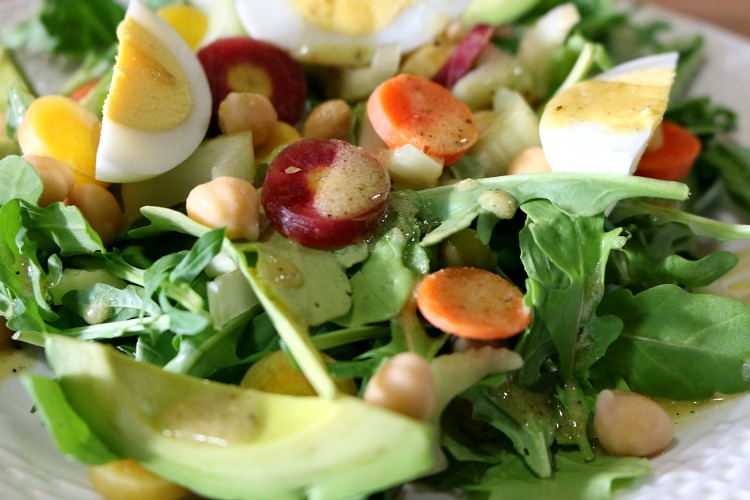 Serves 4
Arugula also commonly known as "rocket" was originally grown as a Mediterranean herb. If you have never had it arugula is a peppery green that is known to be used first by the Romans. The greens were known to be used to sex stimulant. Today in Italy it is used mainly for cooking and used on pizza, salad and served on grilled Paninis. Arugula can have a little bite to it and often can be a bit overwhelming if left in the garden to grow a little too long. I prefer organic arugula because it is often harvested while it is still very petite. I always recommend tasting it before you use it in a recipe, this will help you decide if it should be used sparingly. This recipe was inspired by some boiled eggs and some very vibrant carrots I purchased at the growers market. I love arugula and the spicier the better, but for my family they only like me to use it sparingly. When I am making a salad I often only use a handful at a time. This particular salad recipe I used only arugula as the salad base. If you are feeling bold and daring I encourage you to try it. Either way I would love to hear from you . . . to see what you think of this recipe. Bon Appetit, Cecelia
Ingredients
6 ounces organic arugula
1/2 petite peas
1/2 cup cauliflower florets
2 carrots (purple and gold shown)
1 avocado (ripe but firm)
2 boiled egg, peeled and quartered
1/2 cup garbanzo beans, rinsed and towel dried
Dijon Vinaigrette
1/4 cup white balsamic vinegar (or your favorite vinegar)
1/4 extra virgin olive oil
1/2 teaspoon sea salt
1/4 teaspoon fresh ground pepper
1 teaspoon good quality Dijon mustard (I prefer imported mustards from France)
Instructions
In a large salad bowl layer arugula, peas, garbanzo beans, cauliflower, sliced carrots, boiled egg and avocado. Drizzle with dijon vinaigrette and serve immediately.
Dijon Vinaigrette: In a small mixing bowl add white balsamic vinegar, olive oil, Dijon musard, salt, pepper and mix until well blended.
Notes
TIP: For the best vinaigrette use a high quality extra virgin olive oil, I prefer cold pressed, to ensure you get the full health benefits of the olive oil. I purchase the white balsamic vinegar from Trader Joe's but you can substitute your favorite vinegar.
Cecelia's Good Stuff https://ceceliasgoodstuff.com/