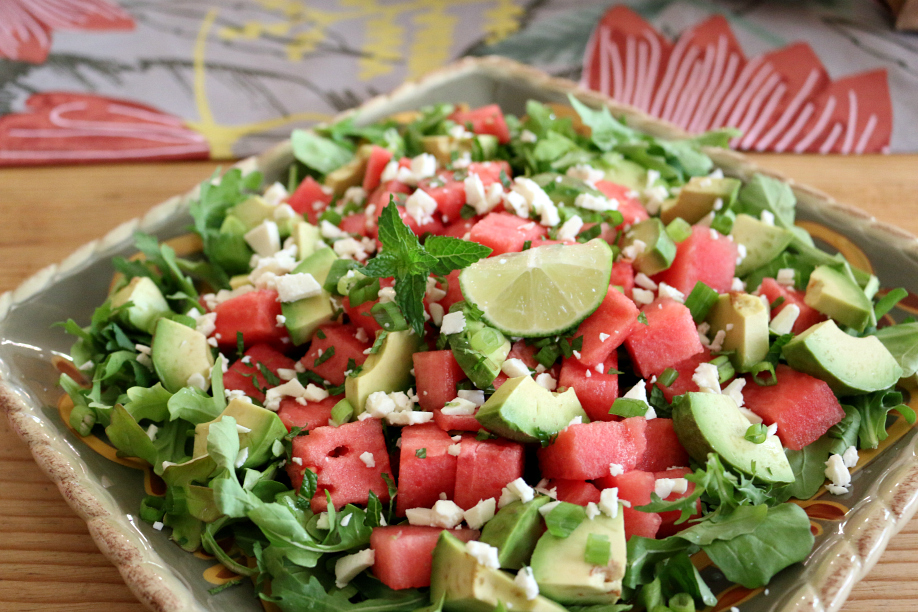 Watermelon Arugula Salad
2017-06-26 15:53:36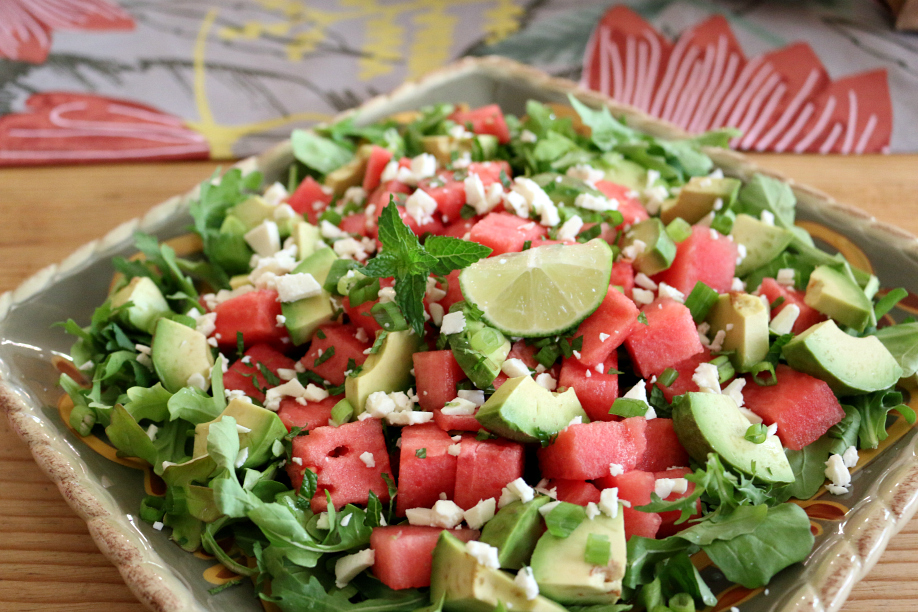 Serves 4
Fresh fruit salads are a favorite in the summer months. The fruit is fresh and tasty. Watermelons are truly in season right now and they are deliciously sweet. With our hot, hot temperatures . . . 104 today to be exact, a chilled salad makes a great dinner. This heat does me in. Actually, it makes me wish I lived where it is cooler. I just can't handle the heat. Normally it only gets over 100 degrees for about a week each summer. I guess I should count my lucky stars . . . I spoke to my friend in Scottsdale, Arizona this morning and it is 122 degrees there. Now that is a real scorcher! Stay cool and don't to forget to drink plenty of H2O! Until next time . . . Bon Appetit, Cecelia
Ingredients
1 bag of (6 ounces) organic baby arugula
1 scallion, sliced
2 cups watermelon, chopped
1 avocado, sliced
1/ 4 cup crumbled feta cheese
1 teaspoon mint, finely chopped
2 tablespoons, fresh lime juice
2 tablespoons, extra virgin olive oil
Salt to taste
Lime wedges for garnish
Instructions
Layer a large salad serving plate with arugula, scallions, watermelon, avocado, feta and fresh mint. Sprinkle with salt.
Lightly drizzle olive oil over entire salad.
Then drizzle the fresh squeezed lime juice.
Gently toss.
Serve into individual plates.
Enjoy!
Notes
Check me out on Pinterest - for more Summer Favorites!
Cecelia's Good Stuff https://ceceliasgoodstuff.com/