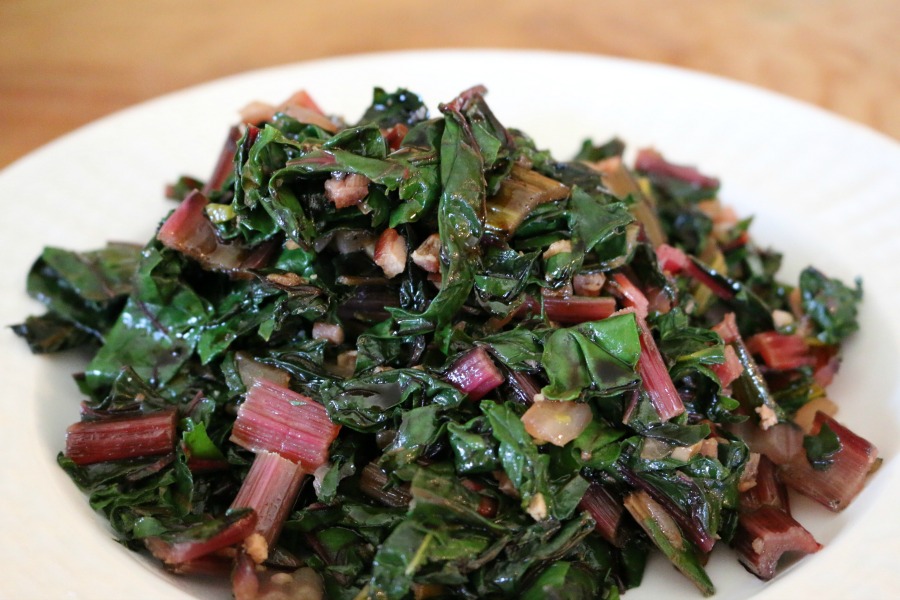 The Best Swiss Chard Recipe Ever
2016-06-14 17:38:39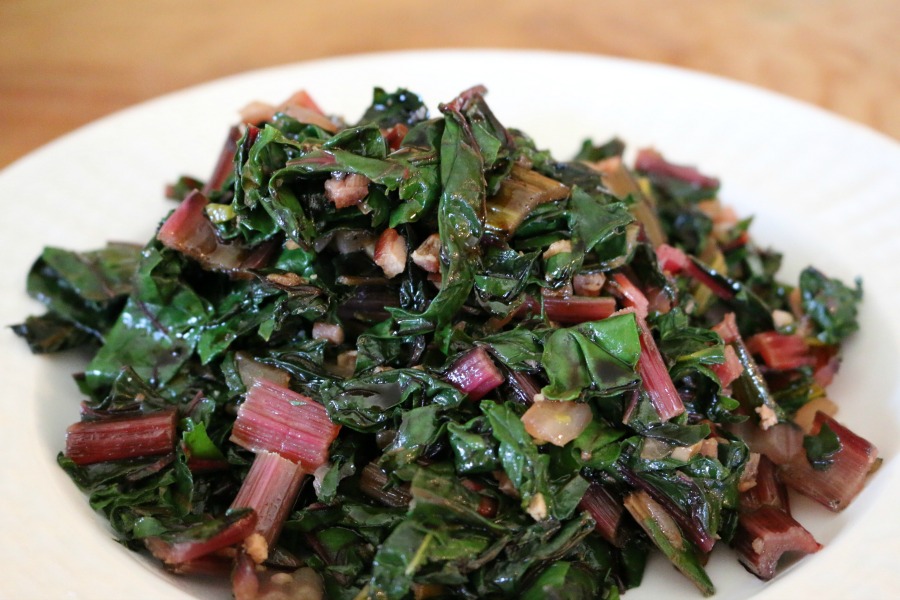 Serves 4
Hands down this is the best Swiss Chard Recipe Ever! The crispy pancetta really adds to the flavor of the Swiss chard. And finishing it with a little balsamic vinegar gives it a bit of acidity making this a fantastic dish. I love sautéed greens. I always feel like I have eaten something healthy when I eat fresh sautéed greens. I volunteered to work in the garden at school today. What was supposed be an hour turned into two and half hours. I got a little carried away. The garden was fun; I can't remember the last time I shoveled 5 wheel barrows full of anything. I was great exercise and I really was working hard. I was so hot and sweaty I had to jump in the pool to cool down. I was a little over heated and covered in dirt from head to toe. Over all it was an awesome day. Most of you know by now I have a small garden. It is very small in comparison to the school's garden. My little garden is not nearly as much work. It was great fun and I had a great time seeing all the butterflies, bull frogs, birds, bumble bees, and lots of worms. The photography class stopped in while I was working, I pointed out the bull frog to a few girls. I hope they captured the moment. He was eating bugs. I wish I had my camera, I missed some great photos. The hard work was really satisfying. As a reward for all my effort and hard work, I picked some fresh Swiss Chard. I wanted to post the recipe so that others working in the garden would have a great recipe to use when they pick their Swiss chard. It was fantastic if I say so myself. I hope you enjoy this recipe. Thanks for your comments and all the sharing of my posts. You are greatly appreciated. Bon Appetit, Cecelia
Ingredients
18 large Swiss Chard leaves with stems
1 cup chopped onion
2 garlic cloves, minced
1/4 cup pancetta, chopped
2 tablespoons balsamic vinegar
Salt and pepper to taste
Instructions
Wash Swiss chard well.
Remove stems from leaves and chop.
Roughly chop leaves and set aside.
In a large sauté pan add pancetta, garlic and onion.
Sauté until onions are translucent, about 3-4 minutes.
Add chopped stems of Swiss chard and sauté another 3 minutes.
Add the Swiss chard leaves, season with salt and pepper.
Sauté until tender about 5 minutes.
Add into serving dish and drizzle with balsamic vinegar.
Serve immediately.
Cecelia's Good Stuff https://ceceliasgoodstuff.com/