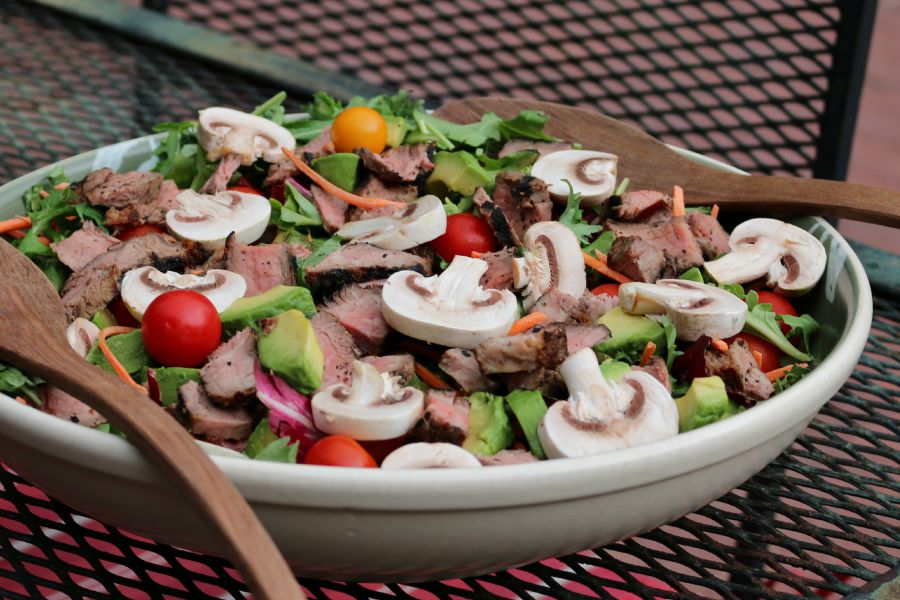 Steak Salad with Blue Cheese Vinaigrette
2015-09-19 07:11:06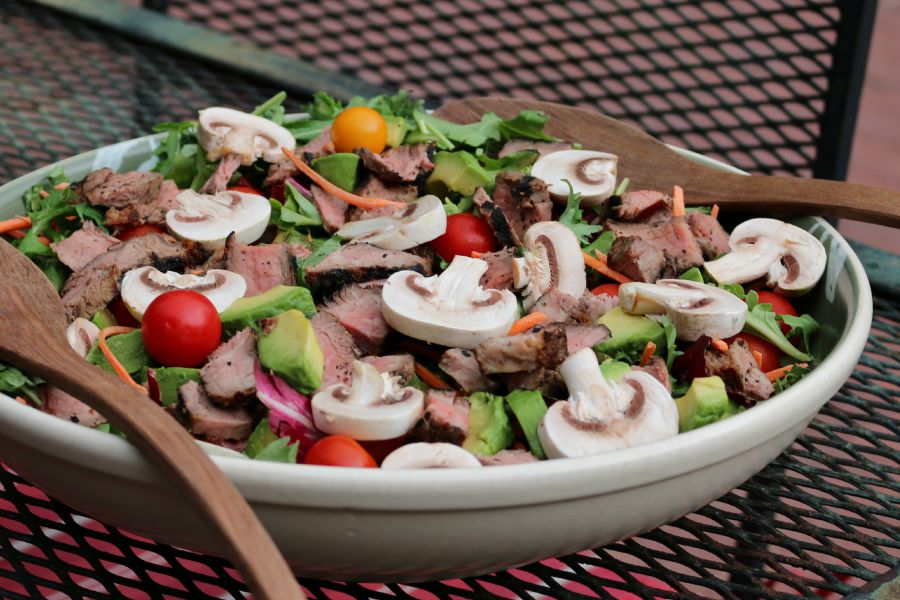 Serves 4
This recipe for Steak Salad with Blue Cheese Vinaigrette is an all-time favorite of my family's. My husband Ted is from Kansas City, and being that he comes from the heart of the mid-west he loves his steak. We rarely go out to eat steak because he has mastered the art of grilling the perfect steak. Here at Casa Linda we have cut back on the amount of red meat we eat, so when he grills steak we often have a left over steak. Left over steak is perfect for making a delicious steak salad. This is a recipe that I have perfected over the years and it pairs perfectly with the blue cheese vinaigrette. It makes a perfect light dinner option or a nice lunch option as well. The petite heirloom tomatoes are from my garden, this is a great way to use up those garden tomatoes. I hope you enjoy this family favorite. As always, I am looking forward to hearing from you. Let me know what you think about this recipe. Bon Appetit, Cecelia
Ingredients
8 ounces organic mixed greens
8 – 12 ounce sliced cooked steak (best if warm or at room temperature)
1 1/2 cups petite heirloom tomatoes
1 cup julienned carrots
1 avocado – sliced and chopped
1 cup sliced mushrooms
4 slice extra thick bacon (roughly chopped)
Blue Cheese Vinaigrette
1/4 cup white balsamic vinegar
1/4 cup extra virgin olive oil
½ teaspoon garlic powder
1 teaspoon whole grain Dijon mustard
¼ cup crumble blue cheese
3 tablespoons fresh lemon juice
½ teaspoon sea salt
¼ teaspoon fresh cracked pepper
Instructions
Blue Cheese Vinaigrette: In a small mixing bowl add balsamic vinegar, olive oil, garlic powder, whole grain mustard, blue cheese, lemon juice, salt and pepper. Mix until well blended. You can make ahead and store up to 4 days in refrigerator.
Steak Salad: In large flat bowl layer your ingredients: mixed greens, carrots, tomatoes, mushrooms, bacon, and avocado. Drizzle with Blue Cheese Vinaigrette, toss lightly and serve immediately.
Notes
TIP: This recipe was made from left over steak. If using left over steak allow the steak to set out at room temperature before serving. This recipe would also be great with grilled chicken.
Cecelia's Good Stuff https://ceceliasgoodstuff.com/