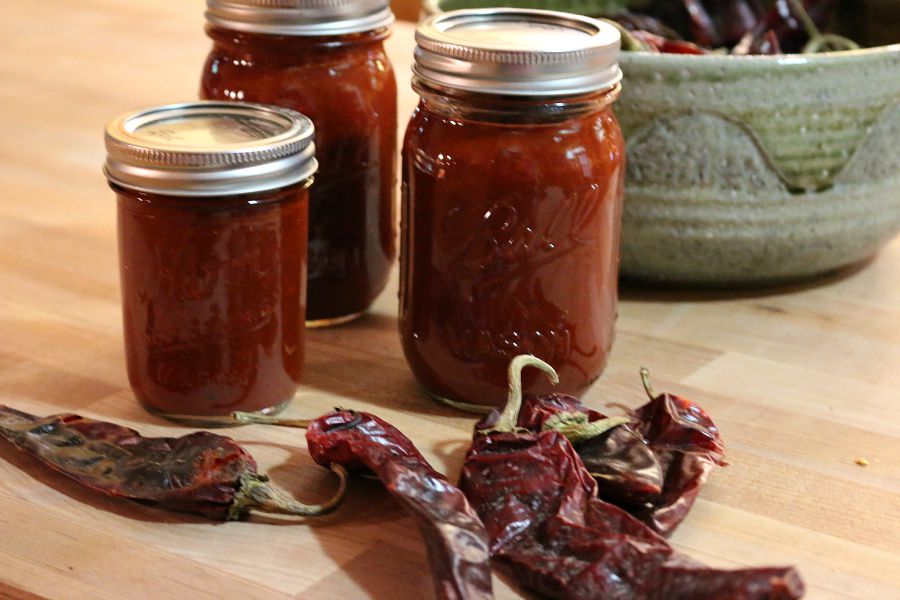 New Mexico Blender Red Chile Sauce
2015-09-25 06:37:14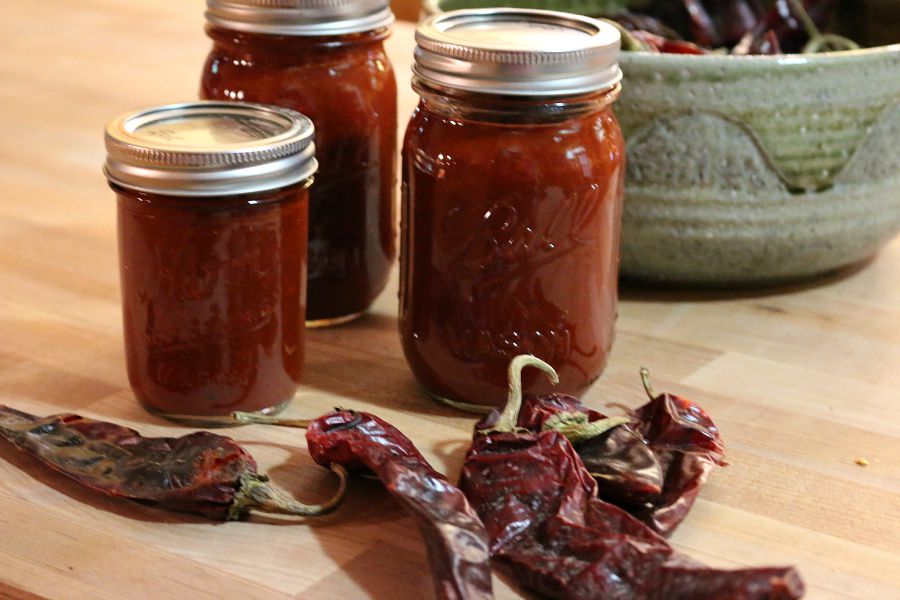 Here in New Mexico our chile recipes have an influence from our neighboring country Mexico, from the Native Americans that were here long before we called a state and from the Spanairds that arrive much later. There are many different ways of creating batch a red chile sauce. I am a bit of a purest and don't like adding a bunch of spices and herbs. I like it a simple. This is only one way to prepare red chile sauce, I have two other recipes that I have previously posted. I recommend trying them all and discovering for yourself which one works best for you. This recipe was taught to me by a roommate I had in college, she wasn't Hispanic, but she made the best red chile sauce ever. Many people like using chicken stock, I prefer using water for the recipe. This is a great sauce and can be used to make enchiladas, chili, chili beans, Huevos rancheros and many more New Mexican dishes. The heat of the chile peppers can vary, if you find that it is too spicy you can simple dilute it with chicken broth or water. I do not make a roux but you can using oil and flour then adding the water or chicken broth to make a thinner sauce. Some people even add tomato sauce or enchilada sauce to cool the temperature of the chilies. If the chilies are too spicy I will make a roux and use water for the liquid, I have used chicken stock when using the sauce for enchiladas. The chicken broth can give the sauce more flavor, depending on what you are using the sauce for. My favorite time to make red chile is in the fall when the chilies have just been picked and are fresh. This batch of red chile peppers had already been dried. So I had to soak and boil them. If you buy a fresh ristra you don't have to soak the chile pepper you just have to cook them. I would love to hear from you and find out which recipe you prefer, or share how you make your chile sauce with me. Please post your comments below. Don't forget to follow me on Facebook, Instagram and Pinterest! Bon Appetit, Cecelia
Ingredients
Yields approximately 5- 6 cups
Prep, cook and processing time: 1 hour
Ingredients
About 20 pods of dried red chile, washed, stems and seeds removed (To remove the seeds gently shake once the stems have been removed.)
3 cloves garlic, minced
½ small onion, coarsely chopped
4 cups water or chicken stock
2 teaspoons sea salt
Instructions
Roasted Red Chile Sauce
Directions: Rinse the chile pods in colander in cold running water. Break chilies into pieces discarding stems and seeds. In a large pot, add the chilies and enough water to almost cover the chile peppers, add the onion, garlic and salt. Bring the water to a boil and reduce heat to simmer, cover and cook for approximately 10 minutes or longer until the pods are rehydrated and soft. Remove from heat and allow to sit in the covered pot for another 20- 30 minutes. Transfer chilies to blender reserving the water. Purée in approximately 3 batches in order to get a chile sauce into a smooth texture. Fill the blender with about 1/3 of the chilies, onion and garlic and some of the water. . Purée. Continue to purée until you have a smooth texture. Add more water to get your desired sauce. Once you get a smooth desired texture, pour into a bowl and finish off the rest of the chile in two batches. Mix all the chile batches together and store in a glass container until needed, or freezer for later use.
Notes
TIP: Red chile will stain plastic containers, I store my chile in glass jars. But if you are going to freeze them for later use, please use the appropriate container for freezing. FYI - putting the plastic ware in the sunshine for serveral hours will help reduce the stains, but may not take it away entirely.
Cecelia's Good Stuff https://ceceliasgoodstuff.com/