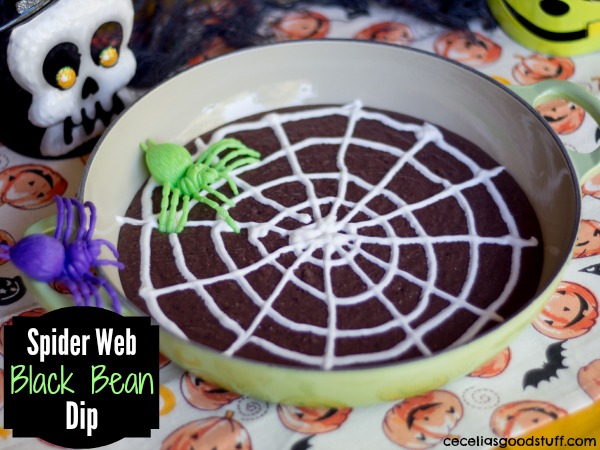 Spider Web Black Bean Dip
2015-01-28 12:59:12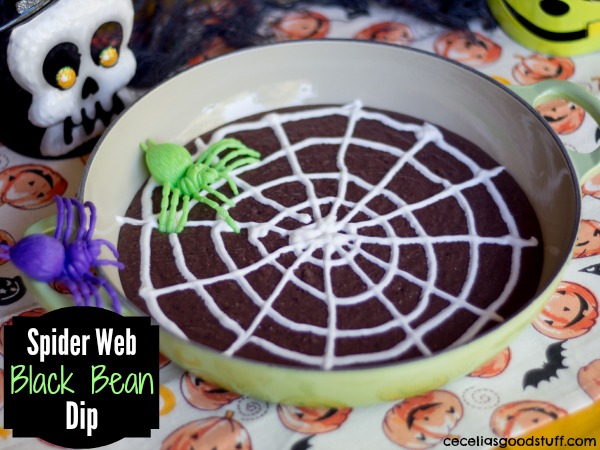 Easy is my kind of snack for a large group and this bean dip is definitely an easy recipe. WARNING – the black beans are a little scary, but the dip tastes great. It is the perfect dish to take to a party. It only takes about 10 minutes to make. Piping the sour cream is the hardest step and even that is very forgiving. The sour cream spider web makes this casual bean dip a huge hit for your Halloween Party!I hope you will share your comments with me. Let me know what you think of this Spider Web Black Bean Dip. Bon Appétit, Cecelia
Ingredients
2 (12 ounce) cans refried pinto bean (black beans optional)
1/2 teaspoon garlic powder
½ teaspoon onion powder
1 teaspoon taco seasoning
1 teaspoon red chile powder
1 cup sour cream
Tortilla chips
Instructions
In food processor add beans, season with garlic powder, onion powder, red chile powder, and taco seasoning.
Pulse until all beans are mashed and smooth.
Place in a large round serving dish and smooth with a spatula.
Garnish with sour cream. Using a plastic baggie or pastry bag add the sour cream into the baggie and seal closed.
Slice a very small hole in the corner of the baggie and pipe the web starting from the center draw circles and then lines from the center outward.
Place two or more plastic spiders on the web and serve with tortilla chips.
Notes
WARNING – the black beans are a little scary, but the dip tastes great. It is the perfect dish to take to a party. Refrigerate until ready to serve.
Cecelia's Good Stuff https://ceceliasgoodstuff.com/