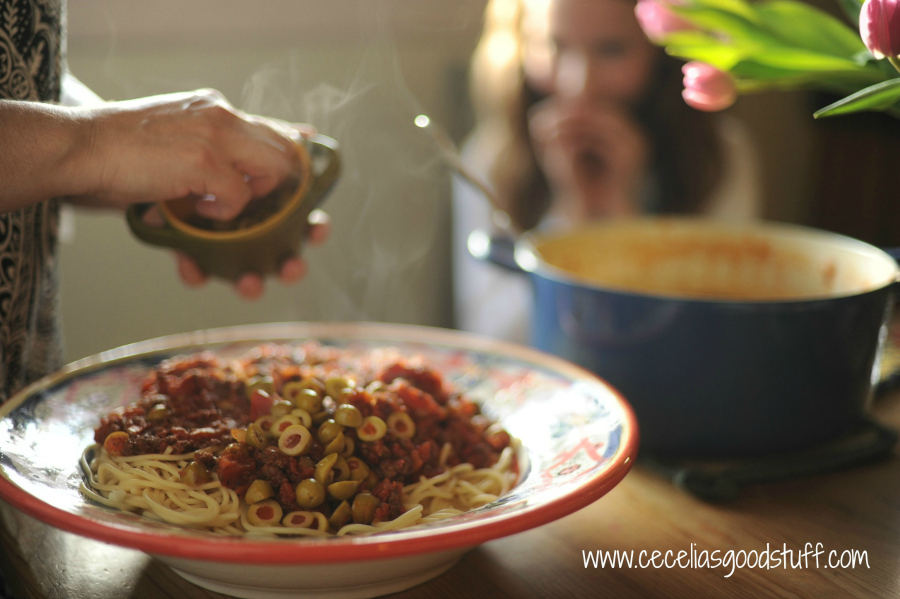 Spaghetti with Sausage and Green Olives
2015-03-17 11:49:15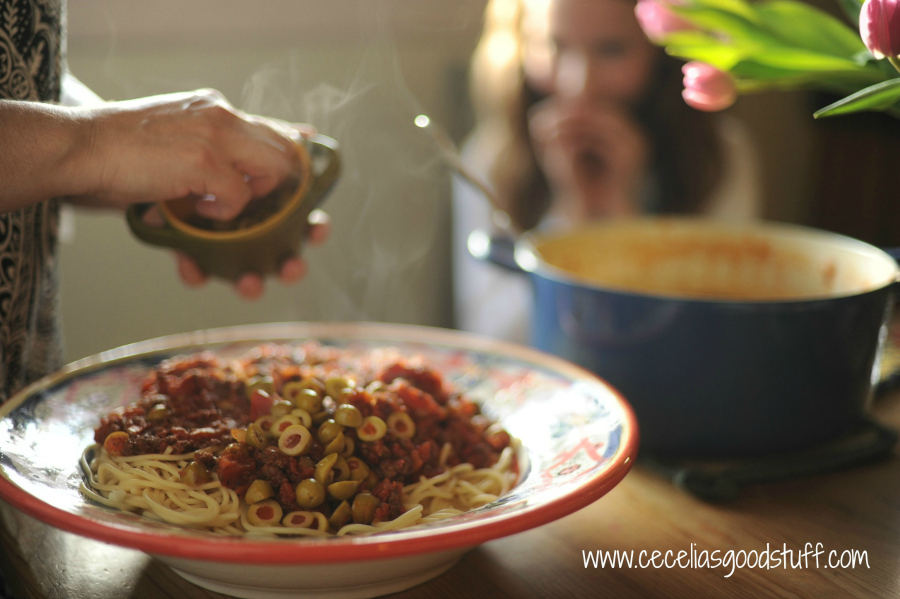 Serves 8
If I could I would eat pasta more than one time per week. It is my all time favorite comfort food. I know my children would love it if I made more pasta too! I have a basic technique for pasta and then add in what sounds good or what I have on hand. I know some people just can't cook that way - but for me it is a way of life. I grew up in poverty and learned to cook with what we had. Unless I have gone to the store and have a specific plan, I often find things I have on hand and get a little creative. If I don't have green bell peppers I use red or orange, and the same goes for olives. I like to mix it up sometimes I use Greek kalamata olives, sometimes green olive and sometime black olives. For the base of my sauce it is always the same onions, garlic, Italian seasoning, diced tomatoes and tomato sauce. From there it is fun to add sausage, olives, peppers, fresh herbs like basil or parsley. I encourage you to have a little fun and get creative with your pasta. This recipe is one of my favorite . . . sometimes I just want green olives with my spaghetti!
Ingredients
1 cup Chopped white onion
1 (28 ounce) Diced tomatoes
1 (12 ounce) Tomato sauce
1 cup red wine
1 pound ground sweet Italian Sausage
2 cloves minced garlic (about 1 teaspoon)
2 teaspoons dried Italian Seasoning
1 teaspoon dried parsley
1/4 teaspoon crushed red pepper
1 teaspoon dried basil
Parmesan Cheese for garnish
Instructions
In deep pot on medium heat sauté two tablespoons olive oil, onion, sausage and garlic. Cook about 10 minutes until the sausage is cooked through. Then add the red wine to de-glaze the pan and add a depth of flavor. Continue cooking to allow most of the wine to evaporate about 3 – 5 minutes, add in diced tomatoes, tomato sauce, and all spices. Let simmer about 20-30 minutes. Add in green olives and turn off heat. Meantime cook pasta according to package - minus one minute for aldente. Drain pasta and put into your serving dish, ladle sauce over pasta and add Parmesan cheese.
Notes
TIP: If you like your pasta aldente look for the center to be slightly darker, take a bite you want it cooked but not too hard. I always recommend checking you pasta, there is nothing worse than over cooked pasta. Different types of pasta vary greatly. I recommend a good Imported Italian pasta.
Cecelia's Good Stuff https://ceceliasgoodstuff.com/