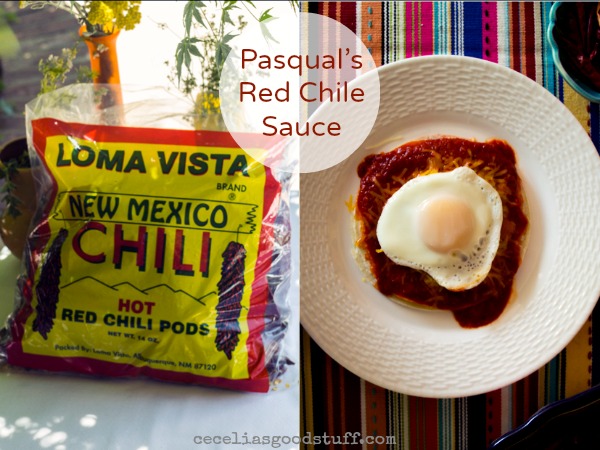 This recipe uses Whole Dried Chile Pods which add a stronger, fruitier flavor to the Red Chile Sauce. This recipe takes a little more time but it's definitely worth it. It's a delicious and rich sauce that can add boldness and spice to any recipe! Bon Appetit, Cecelia
Pasqual's Red Chile Sauce
3/4 Pound of Dried Whole New Mexican Red Chile
(rinsed, stemmed, seeded, covered with hot water and soaked for 30 minutes, reserved the water)
1 medium white onion, coarsely chopped
8 cloves fresh garlic
2 teaspoons dried Mexican oregano
1 teaspoon ground cumin
2 teaspoons kocher salt
In a large stockpot place the rehydrated red chile peppers, reserve water, white onions, garlic, Mexican oregano, and cumin. Bring the ingredients to a boil over high heat. Reduce the hear to low and simmer the ingredients for 20 minutes.
Drain off the liquid and reserve it.
In a blender place batches of chile pepper mixture with a small amount of the reserved water. Purée all of the ingredients so that a thick ketchup-like consistency is achieved. Strain the sauce through a fine mesh sieve. Season with the salt. And Enjoy!
Makes 4 cups
Recipe from Santa Fe Hot & Spicy Recipe and Cafe Pasqual's