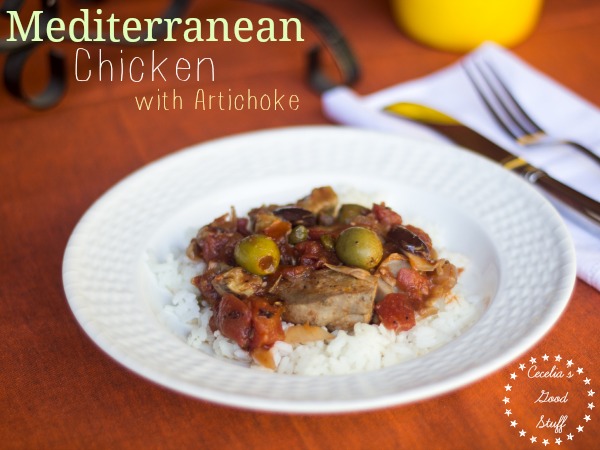 Mediterranean Chicken with Artichokes
2015-01-28 13:21:18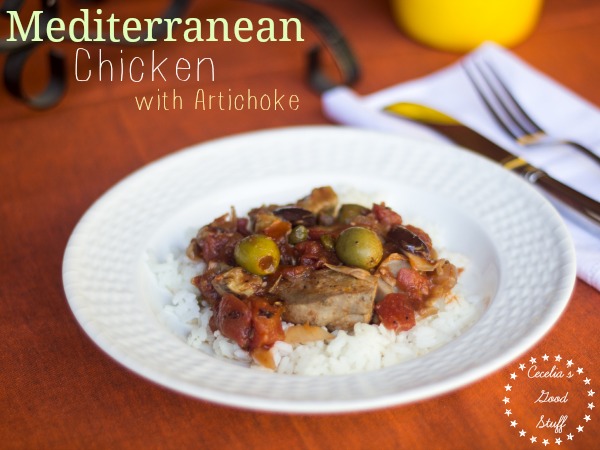 If you have ever been to Europe and enjoyed their cuisine you will really enjoy this dish. And if you haven't been then you will find this dish a little different and interesting to say the least. It is a unique blend of Italian, Greek and Portuguese flavors blended with fresh thyme, rosemary, and parsley. The wine and balsamic vinegar add a depth of flavor. I used fire roasted tomatoes which gives this Mediterranean Dish the extreme nutty flavor which works very well with the briney flavors of the olives and capers. The longer this cooks the better it tastes. And it is even better the next day when all flavors have really come together. This is a great dish for a dinner party served with a nice salad, some great red wine and crusty bread. You seriously can't beat a one dish dinner! Easy clean up and I guarantee you your guest will rave about the "Mediterranean Chicken with Atichokes". Let me know what you think. Please leave a comment or send me a message on Facebook. Bon Appetit, Cecelia
Ingredients
2 tablespoons olive oil
2 pounds chicken thighs or breasts
1 onion chopped finely
4 large garlic cloves, minced
1 (9 ounce) package frozen artichoke hearts
1 (8 ounce) can tomato sauce
1 cup red wine
1 tablespoons fresh thyme leaves
1/4 cup fresh flat leaf parsley
2 tablespoons capers
1 tablespoon fresh rosemary
1 (28 ounce) can fire roasted tomatoes
¼ cup balsamic vinegar
½ cup green olives
½ cup kalamata olives
1/4 cup fresh flat leaf parsley
2 Tablespoons capers
Pepper to taste
Instructions
In deep pot sauté two tablespoons olive oil, chopped onion, garlic and cook about 3 minutes over medium heat.
Then add the chicken, allow chicken to brown about 2 minutes on each side before adding the red wine (this will deglaze the pan and add depth of flavor) let most of the wine evaporate about 3 – 5 minutes.
Add in balsamic vinegar, tomato sauce, fire roasted tomatoes, green olives, artichoke hearts, kalamata olives, capers, salt, pepper and fresh herbs.
Let simmer about 60 minutes, meantime cook pasta or rice according to package.
Serve over cooked pasta or steamed rice.
Cecelia's Good Stuff https://ceceliasgoodstuff.com/