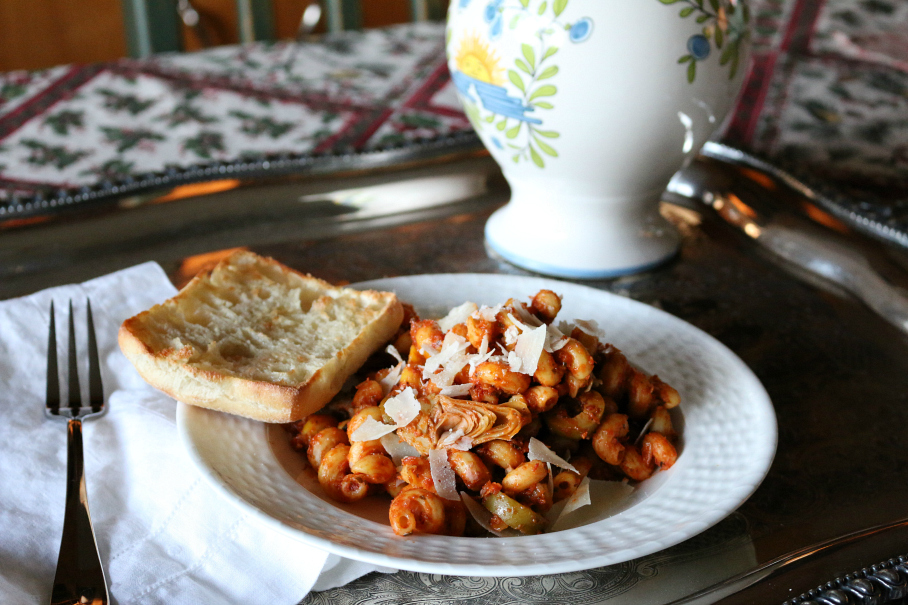 Italian Pasta with Artichokes and Green Olives
2018-01-10 16:11:52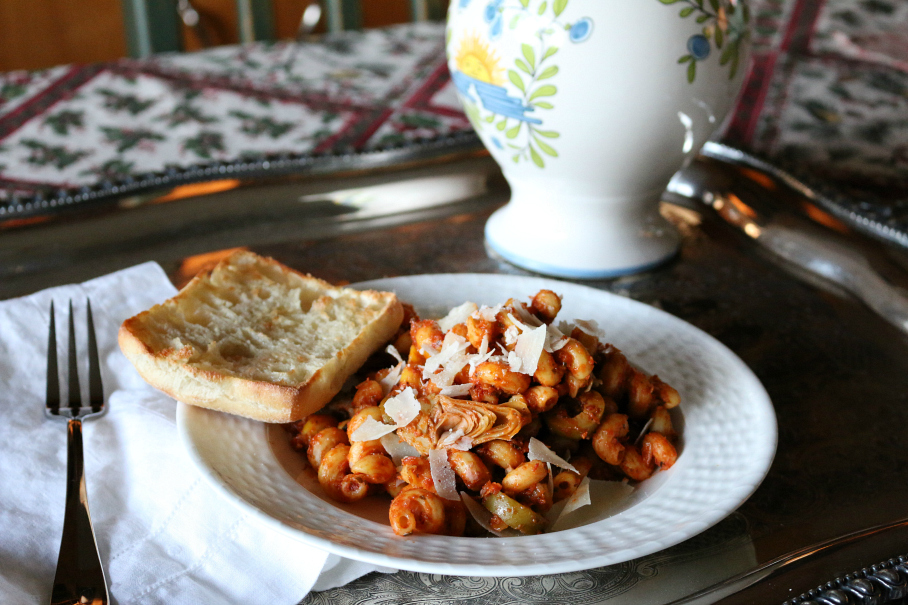 Serves 8
You are going to love this new creation of mine - Italian Pasta with Artichokes and Green Olives. Yum, yum! Let's face it pasta is the ultimate comfort food. At least it is at Casa Linda (my home here in New Mexico). My kids love a delicious bowl of pasta for dinner. To keep it from getting boring I add different things into the sauce. Tonight I added artichoke, green olives and fire-roasted tomatoes. I also had some roasted garlic gloves and threw those into the sauce too. Talk about a robust sauce. It was a huge hit. I served some shaved Parmesan cheese on top and a some toasted garlic bread on the side. My daughter is still mostly vegan so I didn't add meat to this dish.
Ingredients
2 tablespoons olive oil
1 onion chopped finely
4 large roasted garlic cloves, minced
1 (9 ounce) package frozen artichoke hearts
1 teaspoon Italian seasoning
1 teaspoon dried basil
1 teaspoon dried parsley
1 teaspoon fresh rosemary, roughly chopped
Pinch of red pepper flakes
1 cup red wine – whatever you want to serve with your meal is great!
1 (28 ounce) can fire roasted tomatoes
1 (8 ounce) can of tomato sauce
1 cup Spanish green olives, sliced
Sea salt and fresh cracked pepper to taste
Instructions
In deep pot sauté two tablespoons olive oil, chopped onion, garlic and cook about 3 minutes on medium heat.
Add artichokes and herbs.
Add red wine.
Cook for about 3 minutes or until most of the wine has evaporated this will deglaze the pan and add depth of flavor to the sauce.
Add fire-roasted tomatoes, and green olives.
Season with sea salt and fresh cracked pepper to your liking.
Allow sauce to simmer about 20 minutes.
Meantime cook pasta according to package.
Reserve about 1/2 cup of pasta water.
Serve sauce over pasta, adding the pasta water.
Gently toss until the pasta is cover in sauce.
Garnish with shaved Parmesan cheese.
Cecelia's Good Stuff https://ceceliasgoodstuff.com/