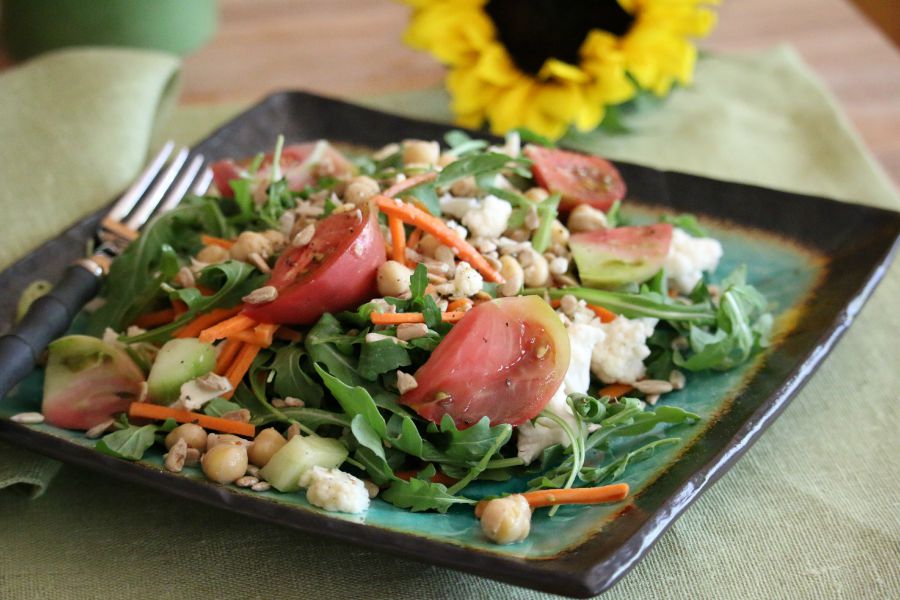 Arugula Heirloom Salad & Dijon Vinaigrette
2015-08-12 21:48:32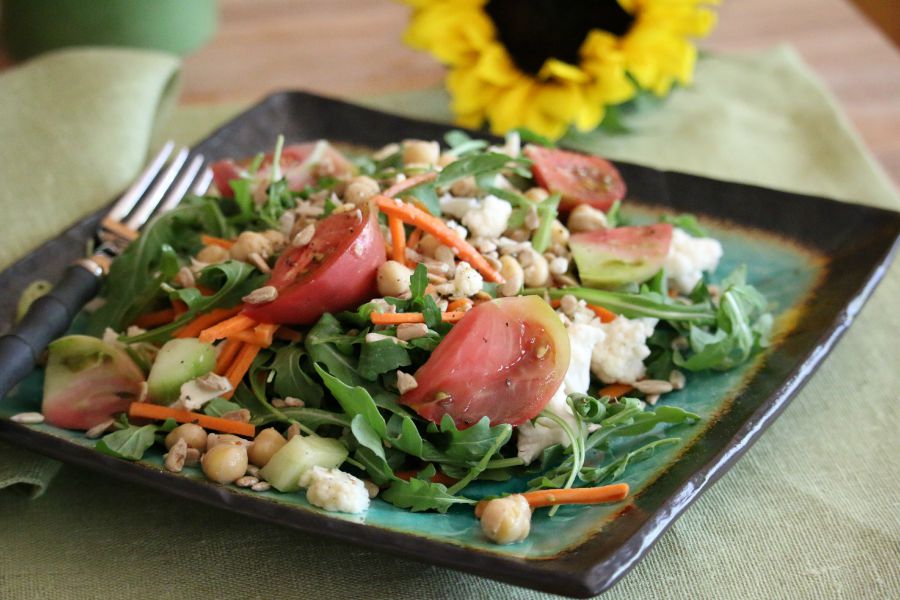 Serves 4
I am very busy putting some of those beautiful garden heirloom tomatoes to use. This a fun simple and tasty salad that was perfect for the sweet taste of the heirloom tomatoes. The arugula was a nice compliment with the dijon vinaigrette. Arugula also commonly known as "rocket" was originally grown as a Mediterranean herb. If you have never had it arugula is a peppery green that is known to be used first by the Romans. Today you can find arugula in most grocery stores throughout the USA. Arugula can have a spicy bite to it and often can be a bit overwhelming if left in the garden to grow a little too long. I prefer organic arugula because it is often harvested while it is still very petite so the flavor is not as harsh and the leafs are very tender. I always recommend tasting it before you use it in a recipe, this will help you decide if it should be used sparingly. This recipe was inspired by my lovely heirloom tomatoes in my garden. I am so happy to have a great crop of tomatoes this year. I love arugula especially with sweet tomatoes. If you are feeling bold and daring I encourage you to try it. If you are not a fond of arugula, I would recommend substituting Romaine lettuce. Whichever you decide on, I would love to hear from you . . . to see what you think of this recipe. Bon Appetit, Cecelia
Ingredients
6 ounces organic Arugula
1 cup Chick Peas (Garbanzo Beans)
1 cup julianned carrots
1 - 2 large heirloom tomatoes
1 cup sliced cucumber
1 cup sunflower seeds
1 cup chopped cauliflower florets
Dijon Vinaigrette
1/4 cup white balsamic vinegar (or your favorite vinegar)
1/4 extra virgin olive oil
1/2 teaspoon sea salt
1/4 teaspoon fresh ground pepper
1 teaspoon good quality Dijon mustard (I prefer imported mustards from France)
Instructions
Dijon Vinaigrette: In a small mixing bowl add white balsamic vinegar, olive oil, Dijon mustard, salt, pepper and mix until well blended.
Salad: In a large salad bowl layer arugula, garbanzo beans, cauliflower, cucumber, sliced carrots and heirloom tomatoes. Drizzle with Dijon vinaigrette, and garnish with sunflower seeds and serve immediately.
Notes
TIP: For the best vinaigrette use a high quality extra virgin olive oil, I prefer cold pressed, to ensure you get the full health benefits of the olive oil. I purchase the white balsamic vinegar from Trader Joe's but you can substitute your favorite vinegar.
Cecelia's Good Stuff https://ceceliasgoodstuff.com/