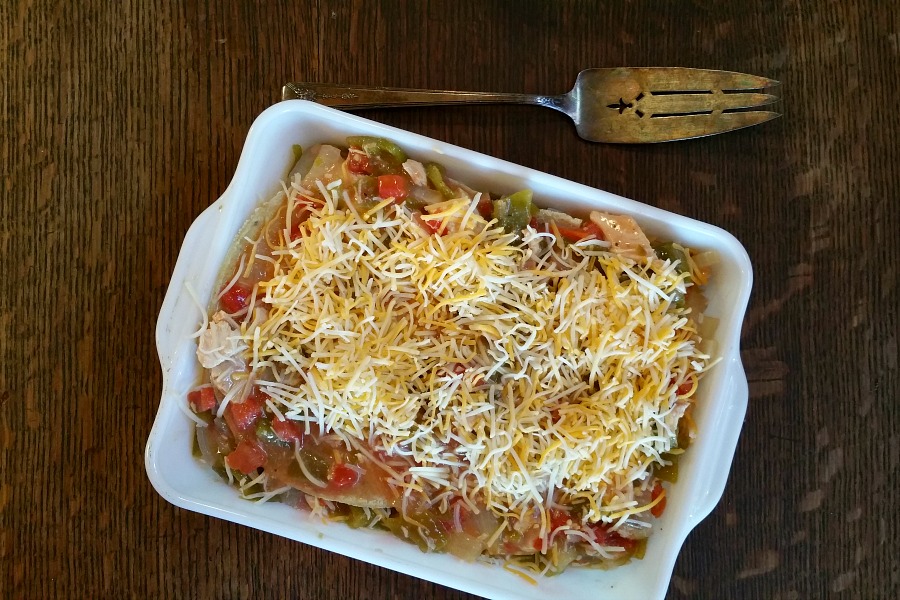 Hatch Green Chile Chicken Casserole
2016-03-24 13:43:24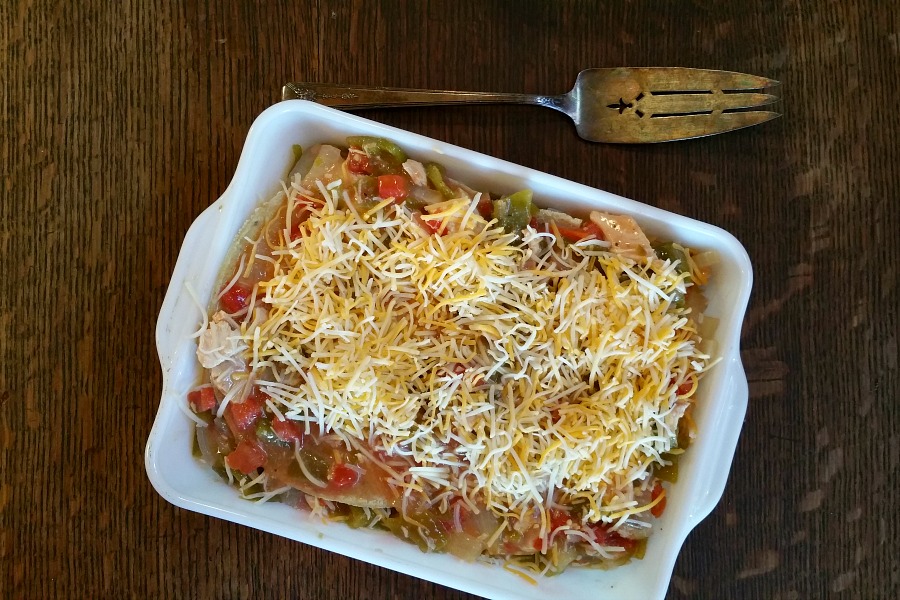 Serves 12
I love spring time, I love that the weather is getting warmer and the days are getting longer. The older I get the less I like winter, I just love to be outside and the cold often keeps me indoors, I don't think I am alone on this one, I talk with many of you that can't wait for spring and summer. The flowers are starting to bloom and the trees are blooming as well and I absolutely love it. I got so excited I actually planted kale and lettuce in my garden already. I hope I have jumped the gun on planting but, I am like a little kid, I can't wait to start growing produce and herbs. If you are local and want mint or lemon balm - I have a ton, contact me if you would like some. Well all this spring weather had me take a little trip to Boise, Idaho to visit a very dear friend and her family. I cooked a variety of great food to put away in their freezer, including this Hatch Green Chile Enchilada Casserole. I didn't want to travel with frozen food so I used Hatch canned green chiles. I was impressed, the can said mild, but they actually had a bite to them. I like my chile with a little kick, it is chile after all. The casserole was easy and I made in less than an hour. The canned chile made the dish so good and easy, and made for a great recipe. So here you have it, all the way from Boise, Idaho, Hatch Green Chile Chicken Enchilada Casserole. I hope you enjoy it as well as all my photos. Bon Appetit, Cecelia
Ingredients
1 Rotisserie chicken de-boned and cut into medium pieces
1 (16 ounce) Hatch whole green chile – Mild
2 cups chicken broth
16 ounces Mexican Cheese Blend
1 medium diced onion
2 cloves finely minced garlic
12 corn tortillas – yellow or white corn tortillas
1 (10 ounce) can cream of mushroom soup (or cream of chicken)
Garnish
Sour Cream
Cilantro leaves
Fresh chopped tomatoes
Cooking Green Chili Sauce
Sauté onions over medium heat until nearly translucent.
Then add garlic.
Sauté for several minutes be careful not to brown the garlic.
Add your green chile, cream of mushroom soup and the chicken stock.
Season with salt.
Then add in the chopped chicken.
Let simmer about 15 minutes until all ingredients are warmed and combined.
Remove from heat and allow to cool.
Casserole Assembly
Lightly oil a large casserole dish this will prevent corn tortillas from sticking to the pan.
After the green chile mixture has cooled layer tortillas, cover with chicken sauce, sprinkle layer with cheese and repeat.
This should allow for at least three layers.
Finish the top layer with extra cheese.
Bake at 350 degrees F. for about 25-30 minutes or until heated thoroughly and edges are bubbling.
Garnish enchiladas with a small dollop of sour cream, cilantro leaves and diced tomatoes.
Serve immediately!
Cecelia's Good Stuff https://ceceliasgoodstuff.com/