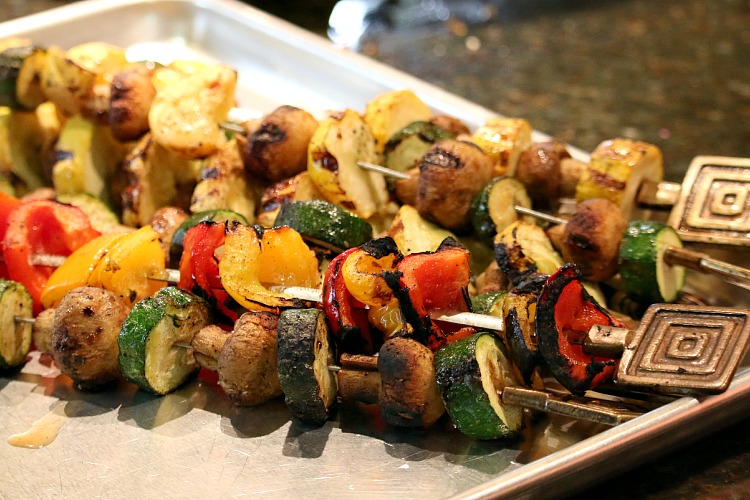 Grilled Vegetable Kabobs
2015-05-27 14:00:52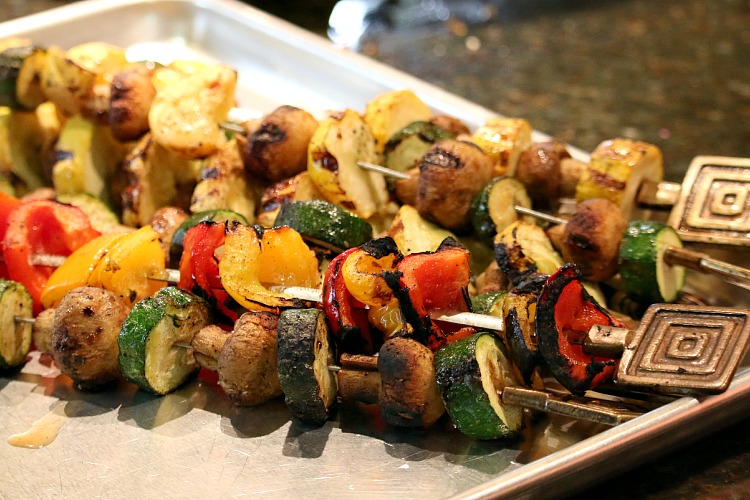 Serves 4
Easy Grilled Vegetable Kabobs are great for any barbecue and can be used year round. This simple and healthy grilling option will have you using your grill on a regular basis spring, summer, winter and fall. Best of all no messes in the kitchen. You gotta love that! This is a family friendly recipe. My children love eating grilled vegetables. Another great tip, if you have left over grilled veggies they are great in a quiche or frittata. See some of my previous posts for frittata and quiche recipes. They are great go to recipes for any vegetable left overs you may encounter. I use left over vegetable all the time in my omelets, quiches and frittatas. It save time and makes for some delicious breakfast ideas. Remember be creative, cook with no fear and most of all have fun. Bon Appetit, Cecelia
Ingredients
1 Red Bell Pepper
1 Yellow Bell Pepper
1 Green Bell Pepper
1 large zucchini
1 large yellow squash
8 ounces white button mushrooms
8 ounces brown mini portabella mushrooms
1/4 cup red wine vinegar
1/4 cup vegetable oil
1 teaspoon Lawry's Seasoning Salt
1 teaspoon black pepper
1 teaspoon garlic powder
1 tablespoon dried Italian Seasoning
Instructions
For marinade: Mix all indgredients in small mixing bowl and set aside.
Kabobs: Slice the vegetable into bite size pieces. Alternate mushrooms and zucchini and squash. Alternate bell pepper. Lay out on cookie sheet and apply marinade with a pastry brush. Grill over medium high heat about 3 - 5 minutes on each side, be extra careful not to burn the vegetables. Rotate as needed.
Notes
TIP: I did not use onion in this recipe, but it would be a nice addition. Red onion or a sweet onion would go well with this vegetable blend.
Cecelia's Good Stuff https://ceceliasgoodstuff.com/