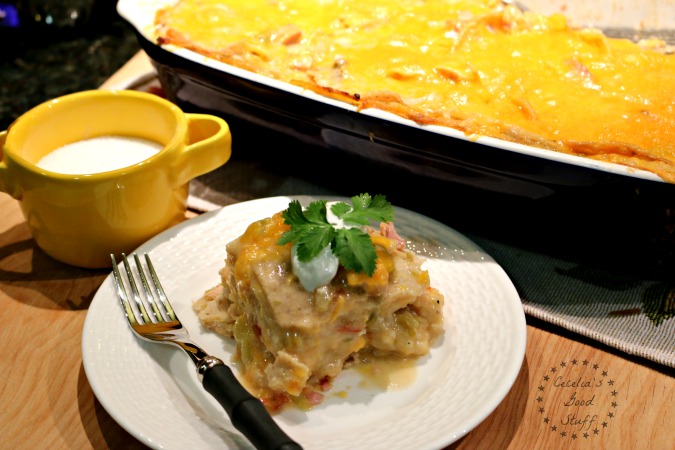 Green Chile Chicken Enchilada
2015-01-26 10:58:00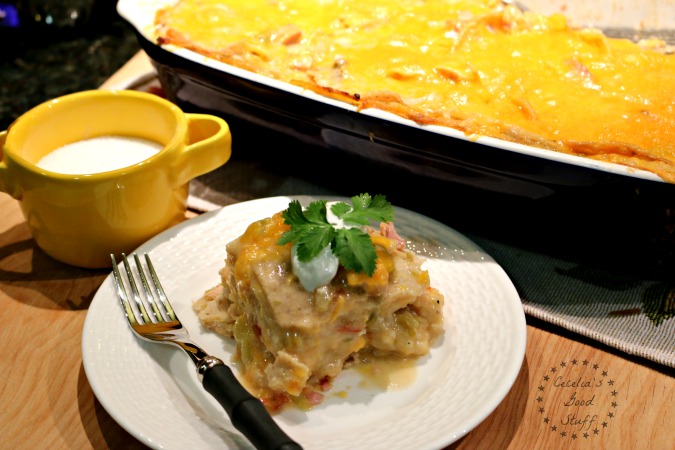 A New Mexico favorite, Green Chile Enchilada Casserole is made by layering green chile sauce, corn tortillas, cheese and baking until warmed through. This does take some effort, but it is worth it! At Casa Linda the whole family enjoys Green Chile Enchilada Casserole. The thing I love most is that you can have left overs. And yes, I enjoy leftovers – it means I don't have to cook every night. Even I need a break from cooking, I know its hard to believe. I would love to hear from you. Post your comments or send me a note on Facebook or Google+. Bon Appetit, Cecelia
Ingredients
Whole cooked chicken de-boned and cut into small pieces
(A pre-roasted rotisserie chicken works great)
1 (16 ounce) frozen roasted diced green chili – Medium or Hot
2 cups chicken broth
16 ounces Fiesta Cheese Blend or mild cheedar
1 medium diced onion
2 cloves finely minced garlic
12 corn tortillas – blue corn preferred (if not available yellow or white corn tortillas will also work fine)
1 (10 ounce) can cream of mushroom soup
Sour Cream for garnish
Cilantro leaves for garnish
Cooking Green Chili Sauce
Sauté onions over medium heat until nearly translucent. Then add your garlic. Saute for several minutes be careful not to brown the garlic. Add your green chili, cream of mushroom soup and the chicken stock. Season with salt only. Let simmer about 30 minutes until all ingredients are warmed and combined.
TIP: No black pepper – you only want the flavor of the green chili) Bring to a medium boil. Remove from heat.
Assembly: Lightly oil a large casserole dish this will prevent corn tortillas from sticking to the pan. In large mixing bowl add your diced chicken and ½ your cheese. Mix well. After your green chili has cooled dip your corn tortilla in the sauce – add your chicken mixture and roll. (Dipping the tortillas – prevents them from cracking or drying out while you assemble entire casserole dish.) Line your entire casserole dish with all 12 rolled enchiladas. Generously cover with green chili sauce. Then sprinkle casserole with the remaining cheese. Bake at 350 degrees for about 20 – 30 minutes or until heated thoroughly and edges are bubbling.
Garnish: Serve several enchiladas and add small dollop of sour cream and cilantro leaves. Serve immediately!
Cecelia's Good Stuff https://ceceliasgoodstuff.com/