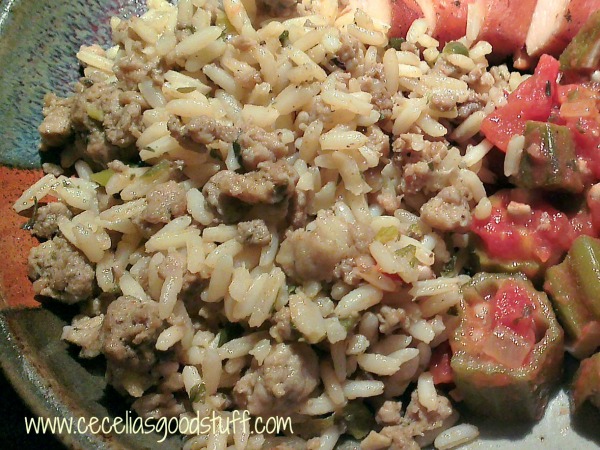 Dirty Rice
2020-11-14 07:08:32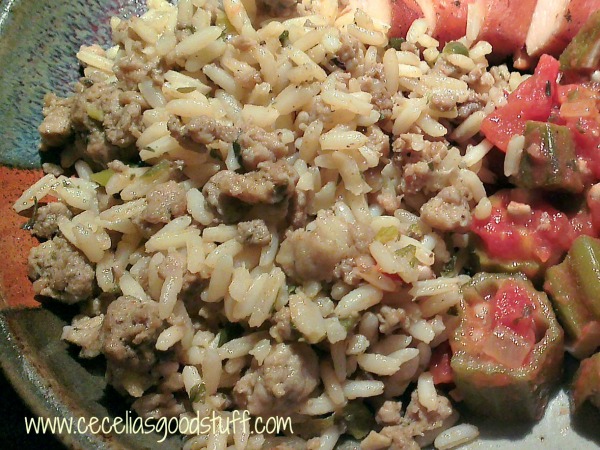 Serves 8
Fabulous sides are always a winner and can really make an everyday meal an amazing experience. I am always trying to coming up with new sides. It is challenging to create something that really takes the meal to the next level. I have played and experimented with making this everyday side dish into a fabulous one. This Dirty Rice recipe will make you want to eat an entire bowl of it. Enjoy! Cecelia
Ingredients
3 tablespoons olive oil
1/2 cup cooked chicken livers, minced
1/2 pound ground Italian hot sausage
1 cup onion, diced
1 small bell pepper, diced
1 stock celery, chopped
2 cloves garlic, minced
1 teaspoon Lawry's seasoning salt
2 pinches Cayenne pepper
1 pinch black pepper
2 large bay leaves
1 cup chicken stock
4 cups cooked rice
2 tablespoon fresh parsley, chopped
Garnish
2 green onions, chopped (green tips only)
Instructions
In a large sauté pan, heat 2 tablespoons of the oil over medium-high heat.
Add the chicken livers and sausage.
Keep stirring until the meat is browned, about 6 minutes.
Add the remaining tablespoon of oil, the onion, bell pepper, celery, garlic, Lawry's seasoning salt, cayenne pepper and black pepper.
Continue to cook, stirring occasionally for 5 minutes.
Add the chicken stock and bay leaves and scrape the bottom of the pan to loosen any browned bits.
Bring to a boil, then lower the heat and simmer for 5 minutes.
Add the cooked rice and stir thoroughly.
Continue to cook until the rice is heated through, about 5 minutes.
Remove from the heat and remove the bay leaves.
Stir in the parsley and mix.
Garnish with green onion and serve immediately.
Enjoy!
Cecelia's Good Stuff https://ceceliasgoodstuff.com/