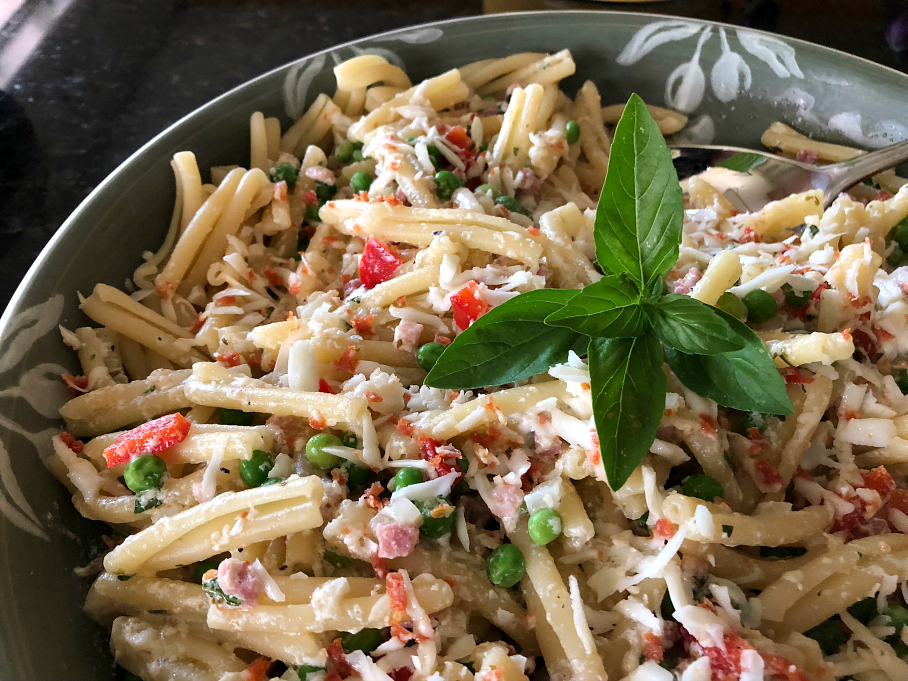 Creamy Goat Cheese Pasta
2019-07-11 17:30:15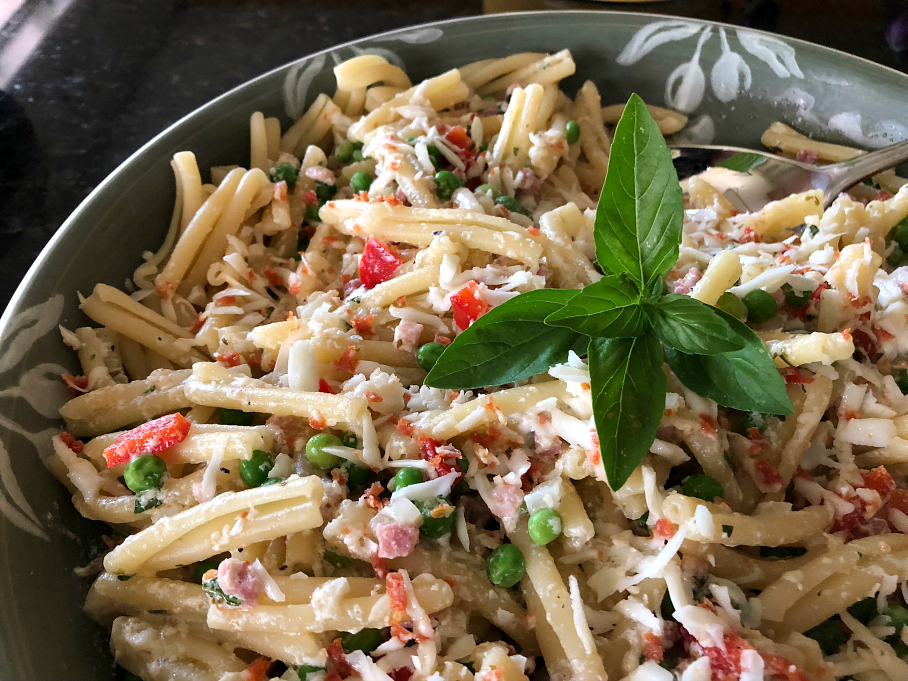 Serves 8
Creamy goat cheese, imported Italian pepperoni, fresh basil, sweet peas and red peppers make for the most delicious combination with Italian imported pasta. You are gonna go crazy for this one! YUM!
Ingredients
16 ounces Italian pasta cooked according to package instructions.
Save one cup of pasta water after pasta is fully cooked.
2 tablespoons extra virgin olive oil
2 cloves garlic, minced finely
1 small onion, diced finely
1 cup soft goat cheese
1/2 cup pancetta
1/2 cup chopped pepperoni
1.5 cups frozen petite sweet peas
1/2 cup chopped roasted red peppers
1 cup freshly grated Parmesan cheese
2 tablespoons chopped fresh basil (+ more for garnish)
2 pinches red pepper flakes
Salt and Pepper to taste.
Instructions
Cook pasta according to package instructions.
Save one cup pasta water.
In a large oversize saute pan: saute olive oil, pancetta, onions, and garlic over medium high heat for about 3 - 4 minutes or until onion is translucent.
Add pasta to pan, with goat cheese, Parmesan cheese, pepperoni, peas, fresh basil, salt and fresh cracked pepper.
Add one cup hot pasta water.
Toss well.
Garnish with extra Parmesan cheese and fresh basil.
Serve in individual bowls.
Notes
I used a goat cheese I purchased outside of Trinidad, Colorado. I have never seen it before or since. So I changed the recipe slightly to accomadate for the cheese. However, it was so amazing and unique - if you must find it: contact Zubal Goat Dairy - no website sorry! Phone: (719)680-1967. They are located directly off I-25 interstate at 18761 County Road 75.1, Hoehne, Colorado 81046
Cecelia's Good Stuff https://ceceliasgoodstuff.com/