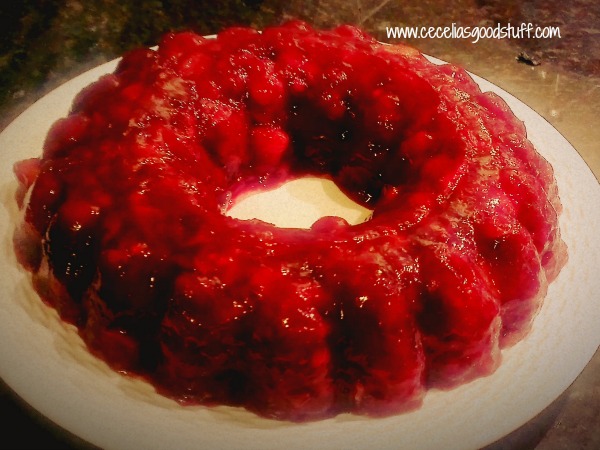 Cranberry Sauce Mold
2016-11-10 20:04:06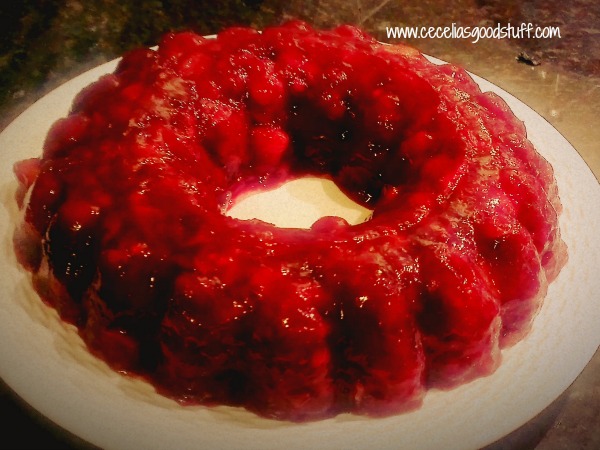 Serves 12
Thanksgiving is definitely one of my favorite holidays. It always takes me back to my childhood. I still remember watching my Mother grind the giblets in her meat grinder to make the stuffing and gravy. I would beg her to help rotate the grinder. One of those comforting memories I have and think of every Thanksgiving. Now my children help me and instead of a meat grinder we use a food processor. Still creating special memories they will look back on one day. My mother made a plain cranberry sauce with sugar. This not anything like the one I grew up with. I think this is much better. The flavors work so well the roast turkey on so many levels. I hope you enjoy my own personal twist on cranberry sauce. Bon Appetit, Cecelia
Ingredients
16 ounces fresh cranberries
1 cup sugar
cranberry Jell-O or raspberry Jell-O
1 (15 ounce) can Mandarin oranges with juice
1 tablespoon fresh lemon juice
Instructions
Pour cranberries into pot add 1 cup of sugar and juice from the Mandarin oranges.
Cook for about 20 minute or until the cranberries have popped and softened.
Allow to cool for 10 minutes.
Then add the jello stir until jell-o is dissolved.
Then add the mandarin oranges and lemon juice stirring gently until blended into mixture.
Pour into jello mold and let set overnight.
Remove from mold and serve immediately.
Enjoy!
Notes
Enjoy with chicken, turkey, lamb, or pork. The perfect dish for the holidays ahead!
Cecelia's Good Stuff https://ceceliasgoodstuff.com/
Thanksgiving is definitly one of my favorite holidays. It always takes me back to my childhood. I still remember watching my Mother grind the giblets in her meat grinder to make the stuffing and gravy. I would beg her to help rotate the grinder. One of those comforting memories I have and think of every Thanksgiving.
Ahhh . . . . .
Now my children help me and instead of a meat grinder I use a food processor. But still creating memories – got to love it!!!

Cranberry Mandarin Orange Sauce