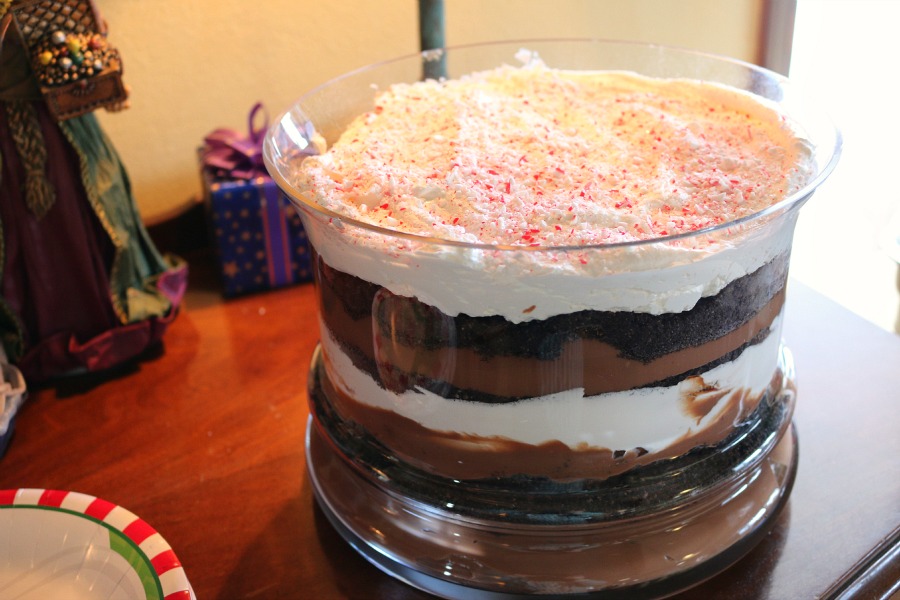 Chocolate Peppermint Trifle
2015-12-16 18:58:11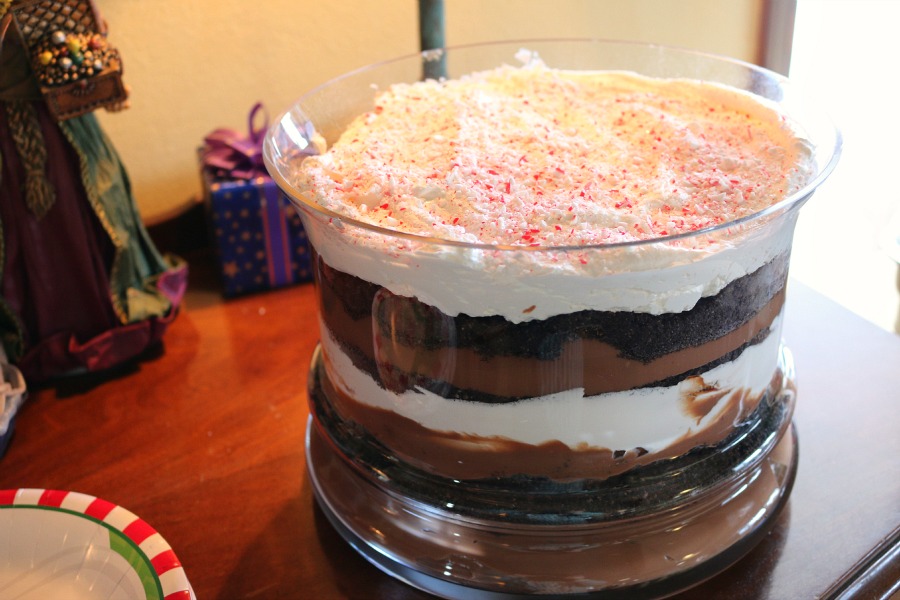 Serves 12
You have got to love the holidays and all the great food that you are exposed to like this decadent Chocolate Peppermint Trifle. This will impress your guest and have them coming back for more. It is so easy and simple to make you will be surprised exactly how easy it is to prepare. You can even use shortcuts like buying prepared pudding and buy pre-crumbled Oreo cookies. This is a double batch and it feed 50 women at our annual ornament exchange. Everyone was asking for the recipe so here it is my very own creative holiday recipe for Chocolate Peppermint Trifle. Wishing you and yours a blessed Holiday Season. I love hearing from you so comment below or send me a message on Facebook. Bon Appetit, Cecelia
Ingredients
2 (6 ounce) Jell-o Chocolate Fudge Instant Pudding Mix
5 cups whole milk
1 package Oreo cookies (all 3 rows)
¼ teaspoon Peppermint oil (food Grade)
1 (28 ounce) container of Cool Whip
2 candy canes, broken into small pieces (for garnish)
1 Hersey's dark chocolate bar (grated finely)
Instructions
Mix chocolate pudding as directed on box.
Chill pudding in refrigerator until ready to layer.
In food processor add entire package of cookies and the peppermint oil, pulse until all cookies form a fine crumb.
No visible white center should be present.
In trifle dish layer the cookie mix, chocolate pudding, cool whip, and grated dark chocolate until you have at least three layers of each.
This desert looks best in a trifle dish.
Save some dark chocolate shavings to sprinkle as garnish on the final top layer with the crushed peppermint.
You can cut this in half if you are making it for a smaller group – it can be put into individual cups. Note: This is best made one day ahead and should be stored in refrigerator for up to 24 hours before serving.
Notes
TIP: Do not add the candy cane pieces to the top until ready to serve, they will melt.
Cecelia's Good Stuff https://ceceliasgoodstuff.com/