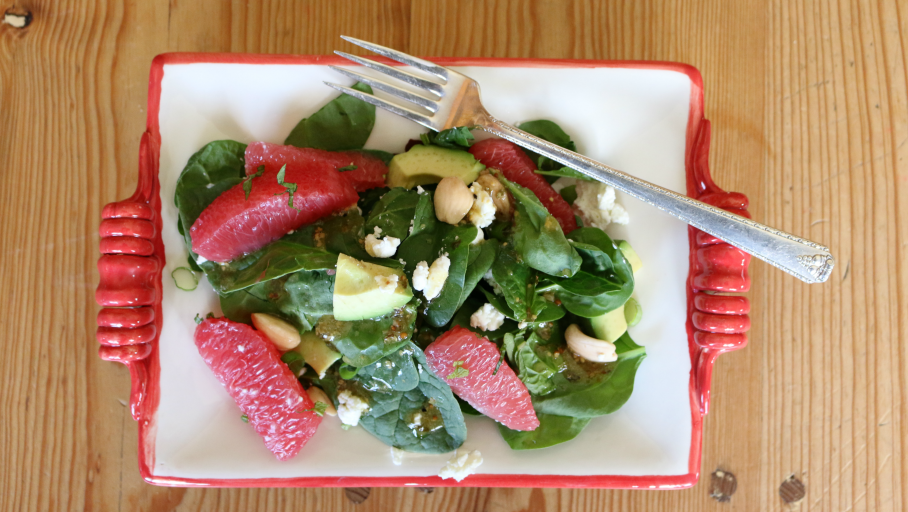 California Spinach Salad
2017-04-05 17:04:15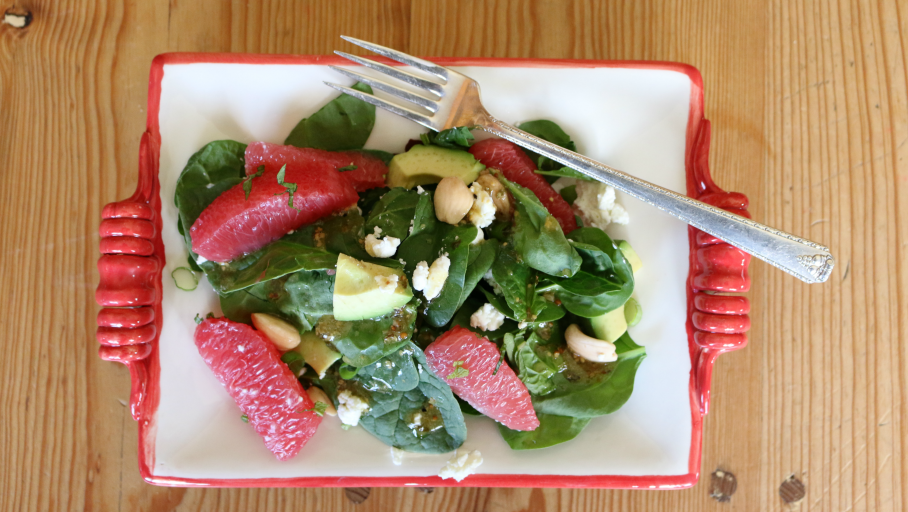 Serves 4
I love spring time. I am not sure why it awakens my spirit so much but the warmth and sunshine really make me happier and more productive. I took a fun art class where we picked our spirit animal out of a box and then painted our spirit animal. Both my children took the class with me. It was great fun. What really resonated with me was how a bear hibernates in the winter month and awakens in the spring. I felt like it was a good symbol for me and how I react to winter and love spring and summer so much more. The bear represents strength and leadership. Bears are also ultimate protectors and that is also very fitting for me as a mother of two. What a fun and new experience for me. My children also really enjoyed the class and painting. It was a great reminder to step outside the box with your creativity and try new things. And speaking of trying new things . . . this salad was a new creation for me. I love trying new twists on salads because I get tired of eating the same old thing. The combination of grapefruit and goat cheese with the Spanish almonds was absolutely perfect. The champagne vinaigrette was nice and light and slight tangy. It paired very well with this spinach salad. Let me know your thoughts. I love getting your emails . . . they truly make my day. P.S. This might be a good salad for the Easter and Passover Holiday ahead.
Ingredients
California Spinach Salad
1 (6 ounce) bag of organic baby spinach
1/4 cup crumbled goat cheese
1/2 cup roasted Spanish almonds
1 grapefruit, peeled and seeded
1 avocado, peeled and sliced
1 scallion, sliced
1 tablespoon mint, chopped finely
Champagne Vinaigrette
1/4 cup extra virgin olive oil
1/4 tablespoon champagne vinegar
1 teaspoon whole grain mustard
1/4 teaspoon sea salt
Fresh ground pepper to taste
Directions for Dressing
In small mixing bowl add olive oil, champagne vinegar, whole grain mustard, salt and pepper.
Mix until all ingredients are blended.
Salad assembly: Layer spinach, goat cheese, almonds, grapefruit, avocado, scallions and mint. Drizzle with champagne vinaigrette, gently toss, and serve.
Notes
TIP - you can use grapefruit fruit cups. It makes it much easier to make this. Since my daughter loves it - I make it often. Make sure to drain the juice thoroughly.
Cecelia's Good Stuff https://ceceliasgoodstuff.com/