I'm excited to introduce to you our new guest blogger and amazing chef, LeAnn from Crabby Apples Cooks. She has some amazing recipes to share, including this Berry Rhubarb Cobbler. Welcome to our team! We are looking forward to seeing some more delicious recipes.
I really love to find a great "base" recipe. You know the kind of recipe you can count on, rain or shine. I started my quest a couple of years ago for the perfect cobbler recipe and immediately found a great peach cobbler! But then, as can happen, I was dying for cobbler without any peaches available, only blackberries. I went to my peach cobbler recipe and replaced the peaches with blackberries. Turns out, the recipe really was a great PEACH cobbler, but not so much an ANYTHING cobbler. So, today, I share with you the winner of the anything cobbler base recipe quest. It is a great recipe for any kind of cobbler. The bread holds it's own against juicy berries, peaches or even rhubarb ( is rhubarb a fruit?) or any other kind of fruit you can throw at it. Made as written, it provides enough thickness and fluffiness to enclose your chosen fruit. This works best in a 9 x 13 pan. Peaches, berries, rhubarb, apricots, or any combination of fruit as long as it's about 5-6 cups works great! Enjoy! LeAnn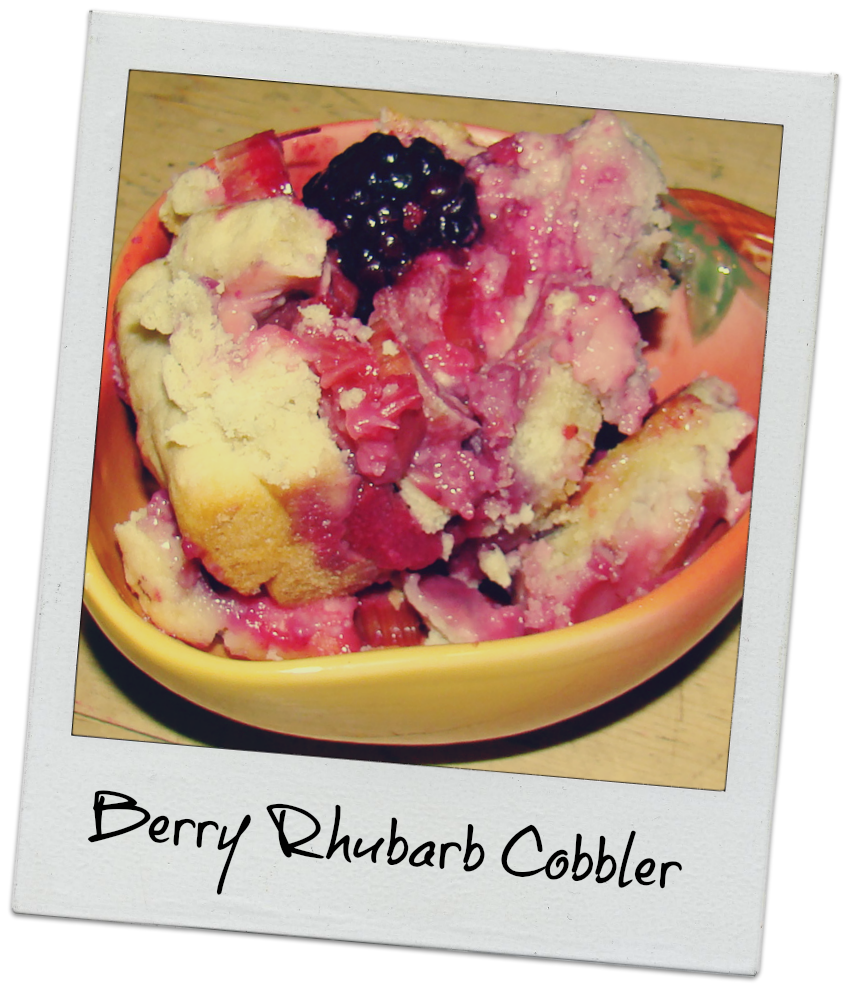 Ingredients
2 cups Chopped Rhubarb
2 cups blackberries
2 cups raspberries
1 ½ cup Sugar
¼ teaspoon Salt
1 Tablespoons Lemon Juice
½ teaspoon Almond Extract (you can use vanilla in a pinch)
2 cups All-purpose Flour
2 Tablespoons Sugar
¼ teaspoon Salt
½ teaspoon pumpkin pie spice
1 Tablespoon Baking Powder
¼ cup Shortening
¼ cup Butter
½ cup Whole Milk
2 whole eggs
Preheat oven to 400 degrees.
In a bowl, combine fruit, sugar, 1/4 teaspoon salt, lemon juice, and almond extract. Stir and set aside.
In a separate bowl, combine flour, 2 tablespoons sugar, 1/4 teaspoon salt, pumpkin pie spice and baking powder. Stir together. Add shortening and butter and mix until combined. ( I use my bosch because it is kind of thick at this point)
Beat eggs and milk together. Pour into flour mixture and mix until combined. Divide the dough in half. Tear the first 1/2 of the dough into small pieces and place into a 9 x 13 pan. I like to just rip the dough into pieces and put in the bottom of the pan to give a few little hiding places for the fruit to hide. Don't just press the first half in! Fruit mixture goes in next, then proceed with tearing and placing the second half of the dough. Remember, nice and light here.
Bake for 30 to 35 minutes, or until golden brown and bubbly. Serve warm with fresh whipped cream. This makes for a great dessert the next day after it's been chilled too! Enjoy! LeAnn
For more recipes, check out Crabby Apples Cooks