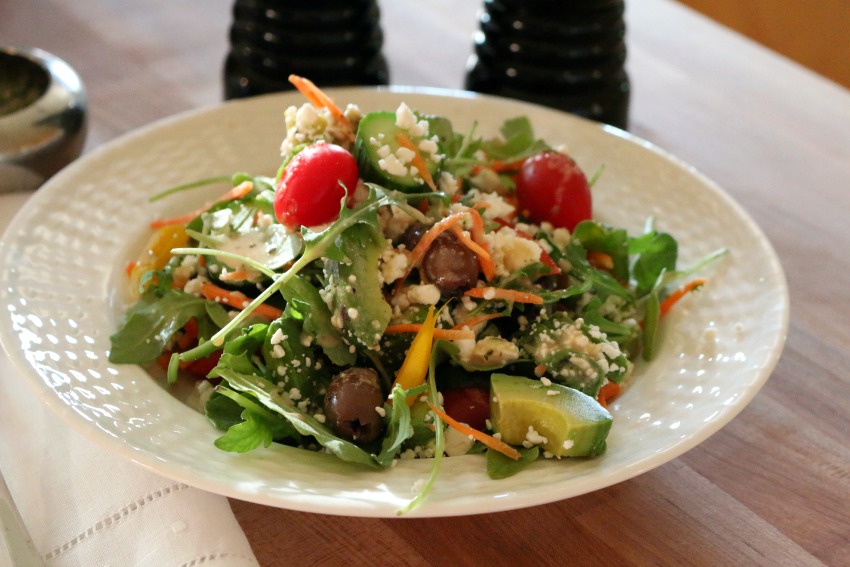 Arugula Summer Salad with Red Wine Vinagrette
2015-06-22 15:07:10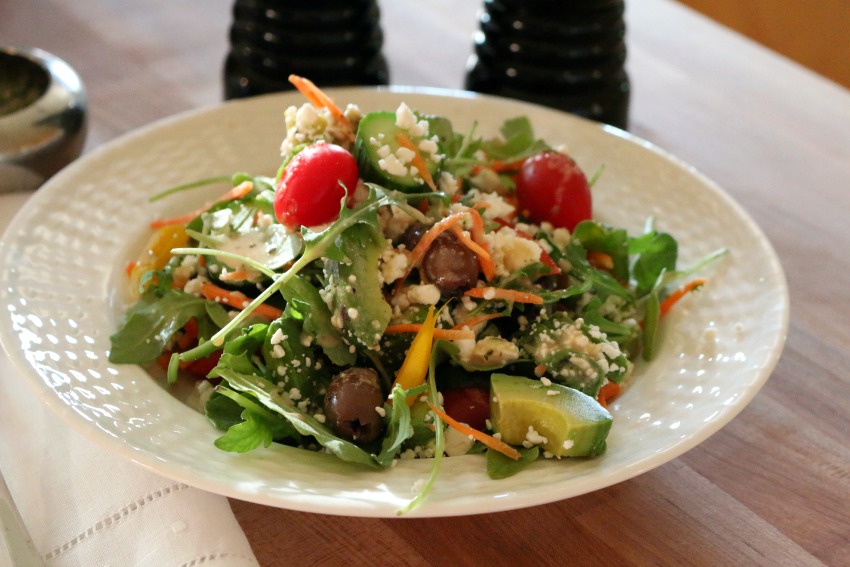 Serves 4
I love the peppery taste of arugula. I can eat a little in every salad I make, the only problem is that my kids don't really like it as much as I do. It can be a bit spicy and tastes like black pepper. Actually, I am not sure my husband likes it as much as I do. The greens in this salad recipe are entirely arugula, I did get the kiddos to eat some, but just a small amount. (If you are not of fan of spicy greens you can substitute any lettuce green.) Everyone always asks me, "Your kids eat everything, how did you get them to do that?" My answer is fairly simple, when they were small I gave them a little bit of everything I ate. It is a matter of developing their tastes at a young age. And yes, my kids do eat everything, from salad to broccoli to brussels sprouts to beets. Here is a funny story for you . . . when I first met my husband back in 1992, I thought I would make him a nice meal, (trying to impress him with my cooking skills) so I baked Greek chicken and I made a Greek Salad with Kalamata olives and Feta cheese and side of roasted beets. The reason I remember it so well that he came into the kitchen and gave me a glass of wine and said what are you making for dinner. I told him what was on the menu and he looked over at the salad and said, "I don't really like those olives and that type of cheese (Feta) and oh, I don't eat beets!" "Well," I said, "You will like it the way I make it. I promise." Long story short, he ate it and liked it! Now he eats Greek salad with Kalamata olives and Feta cheese on a regular basis, and my secret for the roasted beets is to serve them with a nice vinaigrette. If you like beets check out my salad with kale, goat cheese, pecans and roasted beets. It is a fabulous recipe. So for those of you with picky kids don't give up, just keep giving them a variety of vegetables and foods that you eat. Eventually they will eat them and even like them! I would love to hear from you so comment below! Please follow me on Instagram and Twitter. Bon Appetit, Cecelia
Ingredients
1 (6 ounce) bag of organic arugula
½ julienned carrot
½ cup yellow bell pepper
1 cup petite plum tomatoes
1 tablespoon red onion; chopped finely
¼ cup crumbled Feta Cheese
½ cup cucumber sliced
½ cup pitted Kalamata olives
Red Wine Vinaigrette
¼ cup extra virgin olive oil
¼ cup red wine vinegar
1 teaspoon dried Italian seasoning
½ teaspoon garlic powder
1 teaspoon Dijon mustard
½ teaspoon Sea Salt
Fresh ground pepper to taste
Instructions
Directions for Dressing: In small mixing bowl add all ingredients and mix well until all ingredients are well blended.
Salad assembly: layer arugula, carrots, red onion, plum tomatoes, Kalamata olives, avocado, and top with Feta cheese. Drizzle with red wine vinaigrette and serve immediately!
Notes
If you are not a fan of arugula you can substitute your favorite lettuce green, I would recommend spinage or romaine lettuce as a great substitute for the arugula!
Cecelia's Good Stuff https://ceceliasgoodstuff.com/