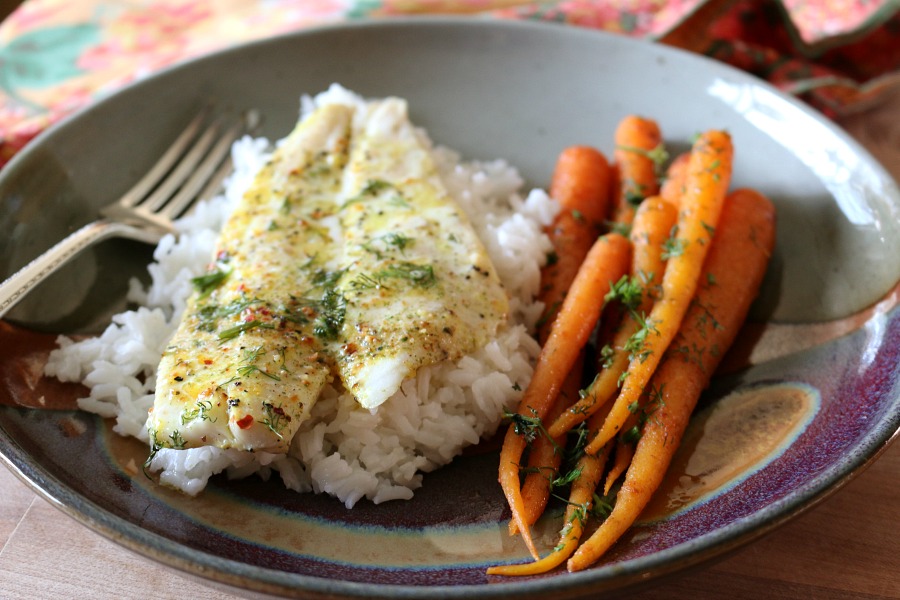 Sticky Rice and Baked Flounder
2016-04-16 06:34:54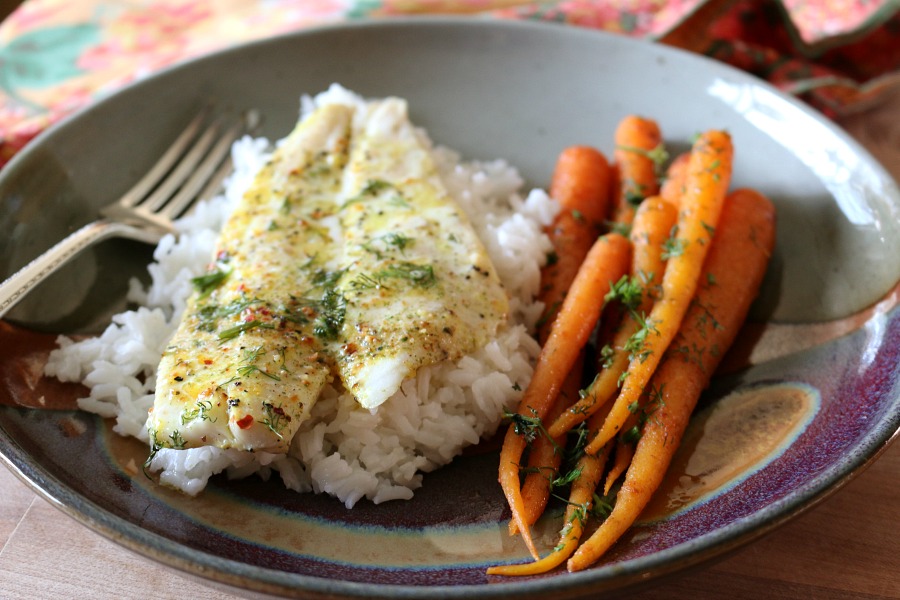 Serves 4
In a previous post I shared with you that I found these amazing wild caught flounder fish fillets in the frozen section at Sam's club. I absolutely love them, they come individually wrapped making them so easy to work with. They are so good; I have been making them for dinner about once every two weeks. My daughter has the entire family eating more fish which is a fabulous idea. We are all in agreement that the family needs to eat more fish. We eat salmon regularly but I am always looking for other fish dinner ideas. I also made these amazing fish tacos, I will share that recipe with you very near future. For this flounder recipe, I seasoned the filets with lemon pepper, red chile flakes and fresh lemon and dill. It was an amazing dinner, the flounder was so delicate and delicious. Flounder doesn't need a lot of heavy seasoning because of the fact that it is very mild fish, the organic carrots and sticky rice made this the perfect dinner, nice and light and very healthy. I wanted to make something for dinner that was easy and quick, I was busy working on my garden most of the weekend and feeling a little tired from all the lifting of heavy pots. (I was rushing to make dinner because I really was looking forward to a bubble bath, I had ulterior motives. That will be our little secret.) By now most of you know by now that I grow most of my herbs, however, I had to buy the dill that I used on the carrots and fish, my dill is not sprouting yet (I planted it by seed), but I hope to see it coming up in the next 7 - 10 days. It is raining today off and on and I am loving it and I know my garden is loving it too. I had a great friend stop by and give me some tomato plants, I am excited to get them planted and start see things grow, this year I am growing two varieties of kale, artichokes, brussels sprouts, 4 types of lettuce, rhubarb, onions and about 30 types of herbs. I will share pictures soon. Stay tuned as I share my next creative recipe. Thank you for your wonderful comments. I absolutely love hearing from you. Until next time. Bon Appetit, Cecelia
Ingredients
4 (4 ounce) Flounder filets
1 tablespoon extra virgin olive oil
2 tablespoon butter, melted (save 1 tablespoon for carrots)
1/ 2 teaspoon lemon pepper
¼ teaspoon garlic powder
Pinch or two red chile flakes
1 Lemon - fresh squeezed
1 teaspoon chopped fresh dill
Salt and Pepper to taste
4 cups prepared sticky rice
24 petite organic steamed carrots
Instructions
Line a cookie sheet with parchment paper, the fish is delicate and the parchment paper prevents it from sticking to the baking sheet and falling apart. Melt butter in microwave for about 20 seconds or until melted. In a small bowl, add olive oil and mix well. Using a pastry brush, coat the flounder filets, season fish with lemon pepper, garlic powder, sea salt and, red pepper flakes and lemon juice. Bake at 425 degrees for 10 minutes or until you see a white opaque juice coming from the fish. This is a sign that the fish is fully cooked. Watch carefully not to overcook, they are very thin and delicate. Garnish with fresh dill and serve over sticky rice.
Sticky rice, follow directions on package. (Serving about 1 cup per person.)
Carrots: Wash and steam in flat pan with about 1/2 cup water. Steam for about 5 - 10 minutes or until tender. Coat with 1 tablespoon melted butter, season with salt and pepper and garnish with fresh chopped dill.
Notes
Please note - the rice takes 20 minutes to cook the fish only takes about 10 minutes. This really is an easy and quick dinner option!
Cecelia's Good Stuff https://ceceliasgoodstuff.com/