[/caption]
Hearty Minestrone Soup
2015-01-26 11:55:02
The weather is finally cooling down and as I look out my kitchen window and watch the last few leave falling from the trees I get sad knowing the days are growing shorter and shorter. I love the long days of summer and it hard on my psyche to know the weather is growing colder and I have less time to walk in the mornings and evenings with my sweet dog Buster. The only thing I really enjoy about winter besides skiing is the great comfort foods like homemade Minestrone Soup. It helps warm my heart a bit. I love a good hearty soup and I enjoy changing the recipe up a bit. This Minestrone soup was so amazing I had to share the recipe with you. Bon Appetit, Cecelia
Ingredients
1 (12 ounce) can diced tomatoes
12 cups water or chicken stock
4 stocks celery sliced finely
4 carrots peeled and chopped
2 garlic cloves finely chopped
1 small onion finely chopped
½ cup frozen peas
¼ cup olive oil
½ teaspoon dried Thyme
½ teaspoon dried Parsley
½ teaspoon Italian Seasoning
Salt and Pepper to taste
3 Tablespoons Worcestershire
2 (12 ounce can dark red kidney beans)
2 cups Egg Noodles
Parmesan cheese for garnish
Instructions
In deep soup pot add olive oil, onion, celery, carrots, zucchini and garlic. Sauté about 3 minutes being careful not let garlic brown just cook slightly. Add tomatoes and water or chicken stock and bring to a boil. Add in the beans, peas, and herbs. Allow soup to come to boil and add Worcestershire and the noodles. Season with salt and pepper. Cook approximately 20 – 30 minutes until noodles are tender. Stir often so noodles do not stick to bottom of pot. Garnish with fresh parmesan cheese. Serve with hard crusty bread!
Cecelia's Good Stuff https://ceceliasgoodstuff.com/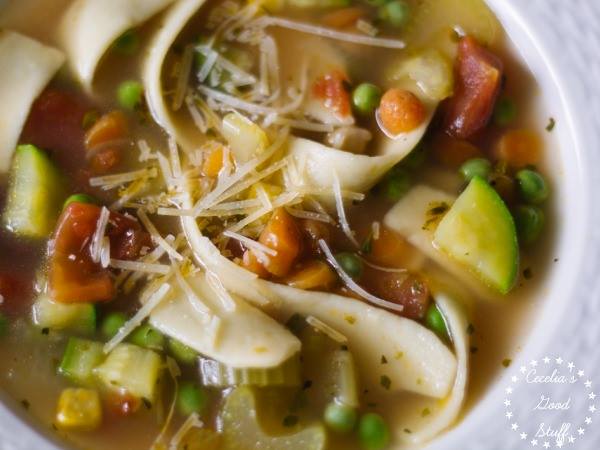 Amazing Minestrone Soup – always use good quality egg noodles, that is the key to making this recipe amazing!