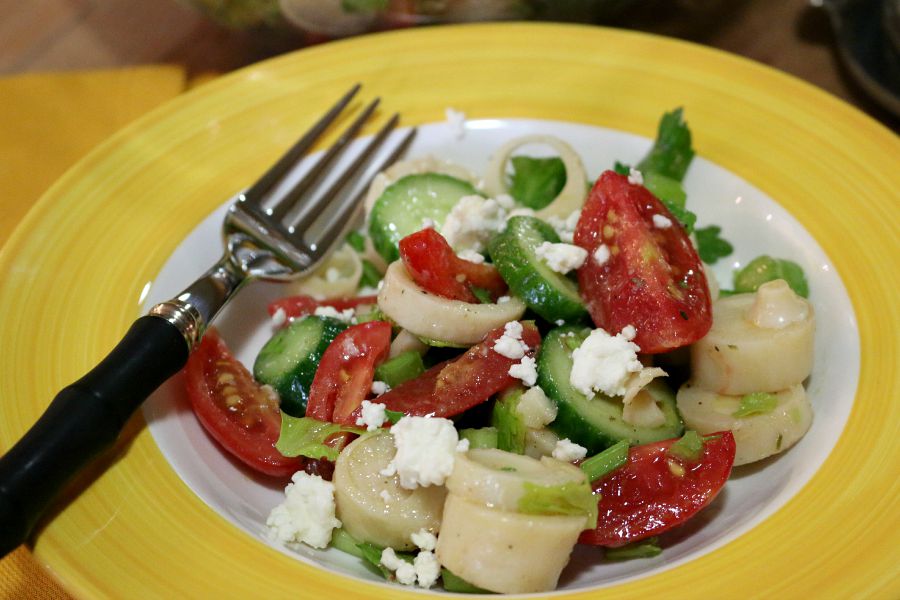 Garden Tomato Cucumber Salad
2015-07-21 20:21:06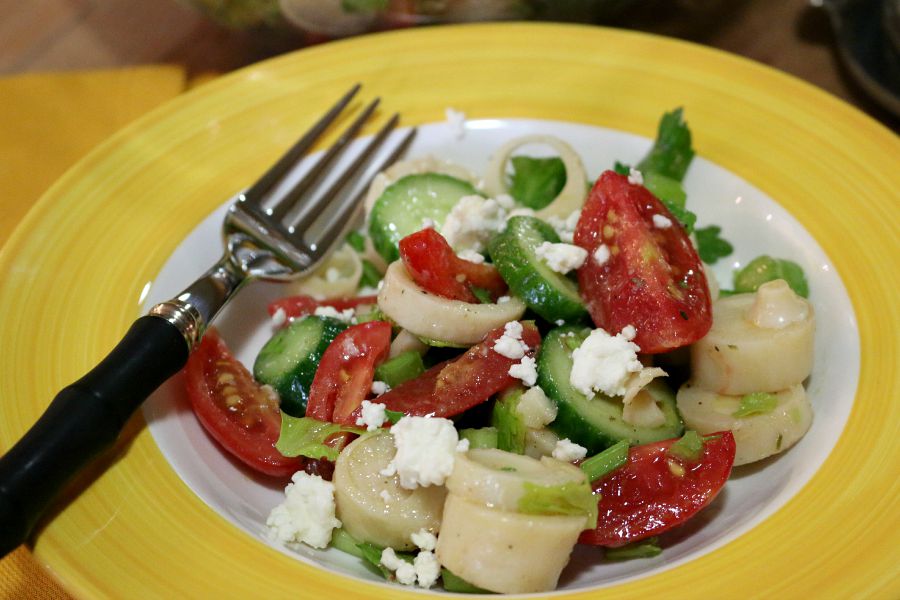 I love this time of year when my garden is producing fresh tomatoes daily. I am inspired to make simple and healthy salads. I love changing them up, it keeps everyone at Casa Linda inspired to eat a salad daily. And yes, I try to make a salad a day, my kids eat salad too. I encourage them to stay healthy by eating raw vegetables whenever possible. Today I picked a variety of small tomatoes from my garden and thought I would make a simple fresh garden salad. I had some Persian cucumbers on hand, I love them because they are tender and don't have large seeds. If you have never tried them, I highly recommend that you give them a try. They make it easy to prepare a quick lunch or dinner salad because you don't have to peel them. I also keep hearts of palm in my pantry for salads, they are so delicious and a great addition to nearly any salad. The feta was a last minute addition and it was the perfect topping for the fresh garden tomatoes.
Ingredients
2 cups sliced Tomatoes
2 cups sliced Cucumbers
1 cup sliced Hearts of Palm
1/2 cup sliced celery
1/4 cup crumbled Feta Cheese
Dressing
4 tablespoons Extra Virgin Olive Oil
4 tablespoons Red Wine Vinegar
1/2 teaspoon Dijon mustard
1/2 teaspoon Italian Seasoning
Sea salt & fresh ground pepper to taste
Instructions
Dressing: In small mixing bowl add all ingredients and mix well until all ingredients are well blended.
Salad assembly: layer tomatoes, sliced cucumber, hearts of palm and celery, drizzle dressing over entire salad, toss gently and serve immediately!
Notes
TIP: I like my dressing with a little tang, if you are not a fan of tangy dressings, simply decrease the vinegar by 1 - 2 tablespoons.
Cecelia's Good Stuff https://ceceliasgoodstuff.com/